Algae Reducers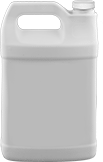 Also known as dispersants, add these chemicals to wastewater to control the growth of algae and other microorganisms that cause foul odors. You can also use them in HVAC equipment, such as cooling towers and humidifiers.
Type

Size,




fl.

oz.

Composition
Harshness
For Removing
Primary Chemical
Each

Liquid Concentrate

Bottle
32
Water Based
Harsh
Algae, Bacteria, Odors
Glutaraldehyde (15-20%)
0000000
000000
Chlorine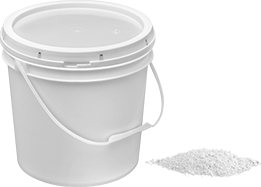 Granule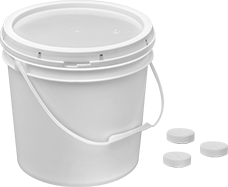 Tablet
Sanitize pools and spas by killing algae, bacteria, and other contaminants without leaving residue. This chlorine won't degrade from exposure to UV rays, so it's good for outdoor use.
Granules dissolve quickly for rapid sanitizing. They're often used when very high chlorine levels are required for complete disinfection—also known as shock treatment. The granule form makes it easy to adjust dosing as needed. Since they're added directly to water, they can be used to disinfect fountains and ponds.
Tablets dissolve slowly to maintain a constant and consistent level of chlorine in your pool over time. They must be used through an automatic chlorine feeder or floater.
This chlorine cannot be sold to the listed areas due to product registration requirements.
Type
Net

Weight,




lbs.

Number
of
Tablets
Composition
Harshness
For
Removing
Cannot
Be
Sold To
Each

Granule

Pail
25
__
Water Based
Harsh
Algae, Bacteria, Dirt
AK, HI, PR, Canada
00000000
0000000
Pail
40
__
Water Based
Harsh
Algae, Bacteria, Dirt
AK, HI, PR, Canada
00000000
000000

Tablet

Pail
10
20
Water Based
Harsh
Algae, Bacteria, Dirt
AK, HI, PR, Canada
00000000
000000
Pail
25
50
Water Based
Harsh
Algae, Bacteria, Dirt
AK, HI, PR, Canada
00000000
000000
Pail
50
100
Water Based
Harsh
Algae, Bacteria, Dirt
AK, HI, PR, Canada
00000000
000000