Shaft-Quality

Nitronic 60 Stainless Steel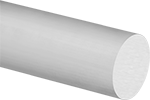 Yield

Strength:

50,

000 psi

Hardness:

Rockwell B85

(Medium)

Heat

Treatment:

Annealed

(Softened)

Heat

Treatable:

No
Specifications

Met:

ASTM

A276,

SAE AMS5848
Offering outstanding resistance to surface wear and corrosion, Nitronic 60 stainless steel is often used for shafts, fasteners, and valves. Maximum temperature for corrosion resistance is not rated.
For technical drawings and 3-D models, click on a part number.

Certificates with a traceable lot number are available for these products. Download certificates from ORDER HISTORY after your order ships.
Dia.

Dia.

Tolerance
Fabrication
Straightness
Tolerance

1/2

ft.




Lg.

1 ft.




Lg.

2 ft.




Lg.

3 ft.




Lg.

6 ft.




Lg.

1/4

"
-0.002" to 0.005"
Cold Worked

1/8

" per ft.
0000000

3/8

"
-0.002" to 0.005"
Cold Worked

1/8

" per ft.
0000000

1/2

"
-0.002" to 0.005"
Cold Worked

1/8

" per ft.
0000000

5/8

"
-0.002" to 0.005"
Cold Worked

1/8

" per ft.
0000000

3/4

"
-0.002" to 0.005"
Cold Worked

1/8

" per ft.
0000000
1"
-0.002" to 0.005"
Hot Rolled

1/8

" per ft.
0000000
1

1/4

"
-0.002" to 0.01"
Hot Rolled

1/8

" per ft.
0000000
1

1/2

"
-0.002" to 0.01"
Hot Rolled

1/8

" per ft.
0000000
1

3/4

"
-0.002" to 0.01"
Hot Rolled

1/8

" per ft.
0000000
2"
-0.002" to 0.01"
Hot Rolled

1/8

" per ft.
0000000
2

1/2

"
-0.002" to 0.01"
Hot Rolled

1/8

" per ft.
0000000
3"
-0.002" to 0.02"
Hot Rolled

1/8

" per ft.
0000000