About Flanged
Flow-Adjustment

Valves
Lightweight Flanged
Flow-Adjustment

Valves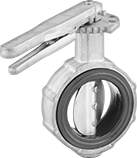 Valve

Type:

Butterfly

For Use

With:

See table
An aluminum body provides strength and durability at half the weight of other metal flanged flow-adjustment valves. These valves bolt to flanges for adjusting and regulating flow in flanged pipelines. Fix the lockable lever handle in place using a padlock (not included) with a shackle diameter up to 5/16". Valves are wafer style, so they must be sandwiched between two flanges; all have unthreaded holes or tabs to help align the valve between the flanges.
Flow coefficient (Cv) is the amount of water (in gallons per minute) at 60° F that will flow through a fully open valve with a difference of 1 psi between the inlet and the outlet.
For technical drawings and 3-D models, click on a part number.
Pipe
Size

For
Use
With
For

Max.


Shackle


Dia.

Pressure
Class

Flange
OD
Bolt
Circle


Dia.

No.

of
Bolt
Holes
Bolt
Hole
Size
Bolts
Included
Flow
Coefficient


(Cv)

Max.


Pressure

Temp.




Range,




°F

End-to-End




Lg.

Each

Aluminum

Body—

316 Stainless Steel Disc

2

Water, Oil, Air

3/16

"
125, 150
6"
4

3/4

"
4

3/4

"
No
220
150 psi @ 210° F
0° to 210°
1

15/16

"
0000000
000000
2

Water, Air

3/16

"
125, 150
6"
4

3/4

"
4

3/4

"
No
220
150 psi @ 250° F
-40° to 250°
1

15/16

"
0000000
00000
3

Water, Oil, Air

3/16

"
125, 150
7

1/2

"
6"
4

3/4

"
No
500
150 psi @ 210° F
0° to 210°
2"
0000000
000000
3

Water, Air

3/16

"
125, 150
7

1/2

"
6"
4

3/4

"
No
500
150 psi @ 250° F
-40° to 250°
2"
0000000
000000
4

Water, Oil, Air

3/16

"
125, 150
9"
7

1/2

"
8

3/4

"
No
820
150 psi @ 210° F
0° to 210°
2

1/4

"
0000000
000000
4

Water, Air

3/16

"
125, 150
9"
7

1/2

"
8

3/4

"
No
820
150 psi @ 250° F
-40° to 250°
2

1/4

"
0000000
000000
6

Water, Oil, Air

3/16

"
125, 150
11"
9

1/2

"
8
0.88"
No
1,900
150 psi @ 210° F
0° to 210°
2

3/8

"
0000000
000000
6

Water, Air

3/16

"
125, 150
11"
9

1/2

"
8
0.88"
No
1,900
150 psi @ 250° F
-40° to 250°
2

3/8

"
0000000
000000