Polished Multipurpose 6061 Aluminum Sheets and Bars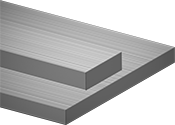 Brushed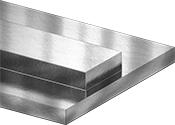 Yield

Strength:

35,

000 psi

Hardness:

Brinell 95

(Soft)

Temper:

3/8"

thick.:

T651
All other

sizes: T6

Fabrication:

Cold Rolled
Specifications

Met:

ASTM B209
One side of these sheets and bars is polished to either a brushed finish or a mirror-like finish. The polished side is covered with a protective peel-off film. The most widely used aluminum, 6061 is fabricated into everything from pipe fittings and containers to automotive and aerospace parts. It is strong and corrosion resistant, plus it's easy to machine and weld.
Brushed sheets and bars are polished to a #4 satin finish with grain lines running in one direction to mask fingerprints.
Mirror-like sheets and bars are polished to a #8 reflective finish and are free of grain lines.
For technical drawings and 3-D models, click on a part number.

Certificates with a traceable lot number are available for these products. Download certificates from ORDER HISTORY after your order ships.
Thick.

Thick.


Tolerance
Heat
Treatment
Temperature


Range,




°F

Flatness
Tolerance

2"




× 24"

4"




× 24"

6"


× 6"

6"


× 12"

6"




× 24"

12"


× 12"

12"


× 24"

24"


× 24"

Brushed

0.062"
-0.003" to 0.003"
Hardened
-320° to 300°
0.125"
000000
0.062"
-0.003" to 0.003"
Hardened
-320° to 300°
0.125"
000000