Easy-to-Machine

6020 Aluminum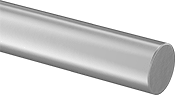 Yield

Strength:

39,

000 psi

(except

2"

dia.

rods are

36,

000

psi)

Hardness:

Brinell 100

(Soft)

Temper: T8

Fabrication:

Cold Drawn
Frequently used to make valve bodies, pistons, and hydraulic parts, 6020 aluminum is easier to machine and more corrosion resistant than 6061, but it is not as weldable.
For technical drawings and 3-D models, click on a part number.

Certificates with a traceable lot number are available for these products. Download certificates from ORDER HISTORY after your order ships.
Dia.

Dia.

Tolerance
Heat
Treatment
Temperature


Range,

°F

1 ft.

Lg.

3 ft.

Lg.

6 ft.

Lg.

3/8

"
-0.002" to 0.002"
Hardened
-320° to 300°
0000000

3/4

"
-0.002" to 0.002"
Hardened
-320° to 300°
0000000
1"
-0.002" to 0.002"
Hardened
-320° to 300°
0000000
1

1/4

"
-0.003" to 0.003"
Hardened
-320° to 300°
0000000
1

3/8

"
-0.003" to 0.003"
Hardened
-320° to 300°
0000000
1

1/2

"
-0.003" to 0.003"
Hardened
-320° to 300°
0000000
1

3/4

"
-0.004" to 0.004"
Hardened
-320° to 300°
0000000
2"
-0.004" to 0.004"
Hardened
-320° to 300°
0000000