Nonsparking Adjustable Hook Spanner Wrenches for Slots on the Side



Made of aluminum-bronze that is Factory Mutual approved, these wrenches inhibit sparking and are nonmagnetic and corrosion resistant. They satisfy OSHA requirements that specify nonsparking tools for locations where flammable vapors and combustible residues are present. The wrench head pivots to accommodate a range of diameters, fitting into slots on the circumference of collars, bearings, and other machine tool components.
Warning: Do not use these tools in direct contact with acetylene.
Welding Tank Wrenches
Turn the fittings on welding tanks.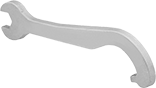 Drive
Size
For
Turning
Drive
Size
For
Turning
Spanner
Wrench Style
Overall


Lg.

Material
Each
1

1/8

"
Valve Stems, Regulator Inlet Nuts
3

3/4

"
Tank Caps
Hook
13

1/2

"
Aluminum
000000
000000
Fire Hose Fitting Wrenches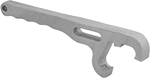 A

B
A spanner-style head fits the lugs on fire hose couplings and adapters.