How to

Identify and Measure Fittings
Pipe size is an industry designation, not the actual size. View information about how to measure threaded and unthreaded pipe and pipe fittings.
Aluminum Unthreaded Pipe Flanges
Also known as Pressure Class 125 flanges, these are for use in low-pressure applications. Bolt two same-size flanges together with a gasket (sold separately) to create an access point within a line. Flanges are aluminum, which is lightweight with good corrosion resistance.
Butt-weld flanges are also known as weld-neck flanges; the flange neck has a beveled end that, when flush to pipe, creates a trough for a strong weld. Slip-on weld flanges have no internal stop; slide a pipe through the flange and weld on both sides. Reducing flanges let you transition your system to a smaller pipe size; attach to a flange with a larger pipe size but with the same flange dimensions.
For technical drawings and 3-D models, click on a part number.

Front

Flat Surface on Back
For Use

With:

Air,

Oil,

Water
Pressure

Class: 125

Specifications

Met:

ASME

B16.

1

Fittings:

Use Schedule 40 aluminum

Pipe:

Use Schedule 40 aluminum
Pipe
Size

Flange
OD
For Bolt


Dia.

Dia.

No.


of
Bolt Circle


Dia.

Max.

Pressure
Each

1/2

3

1/2

"

1/2

"

5/8

"
4
2

3/8

"
150 psi @ 72° F
000000000
000000

3/4

3

7/8

"

1/2

"

5/8

"
4
2

3/4

"
150 psi @ 72° F
000000000
00000
1

4

1/4

"

1/2

"

5/8

"
4
3

1/8

"
150 psi @ 72° F
000000000
00000
1

1/2

5"

1/2

"

5/8

"
4
3

7/8

"
150 psi @ 72° F
000000000
000000
2

6"

5/8

"

3/4

"
4
4

3/4

"
150 psi @ 72° F
000000000
000000
2

1/2

7"

5/8

"

3/4

"
4
5

1/2

"
150 psi @ 72° F
000000000
000000
3

7

1/2

"

5/8

"

3/4

"
4
6"
150 psi @ 72° F
000000000
000000
4

9"

5/8

"

3/4

"
8
7

1/2

"
150 psi @ 72° F
000000000
000000
6

11"

3/4

"

7/8

"
8
9

1/2

"
150 psi @ 72° F
000000000
000000
Front

Flat Surface on Back
For Use

With:

Air,

Oil,

Water
Pressure

Class: 125

Specifications

Met:

ASME

B16.

1

Fittings:

Use Schedule 40 aluminum

Pipe:

Use Schedule 40 aluminum
Pipe
Size

Flange
OD
For Bolt


Dia.

Dia.

No.


of
Bolt Circle


Dia.

Max.

Pressure
Each

1/2

3

1/2

"

1/2

"

5/8

"
4
2

3/8

"
150 psi @ 72° F
00000000
000000

3/4

3

7/8

"

1/2

"

5/8

"
4
2

3/4

"
150 psi @ 72° F
00000000
00000
1

4

1/4

"

1/2

"

5/8

"
4
3

1/8

"
150 psi @ 72° F
000000000
00000
1

1/4

4

5/8

"

1/2

"

5/8

"
4
3

1/2

"
150 psi @ 72° F
000000000
00000
1

1/2

5"

1/2

"

5/8

"
4
3

7/8

"
150 psi @ 72° F
000000000
00000
2

6"

5/8

"

3/4

"
4
4

3/4

"
150 psi @ 72° F
000000000
00000
2

1/2

7"

5/8

"

3/4

"
4
5

1/2

"
150 psi @ 72° F
000000000
00000
3

7

1/2

"

5/8

"

3/4

"
4
6"
150 psi @ 72° F
000000000
00000
4

9"

5/8

"

3/4

"
8
7

1/2

"
150 psi @ 72° F
000000000
000000
6

11"

3/4

"

7/8

"
8
9

1/2

"
150 psi @ 72° F
000000000
000000
8

13

1/2

"

3/4

"

7/8

"
8
11

3/4

"
150 psi @ 72° F
000000000
000000
Slip-On Weld Reducing Flanges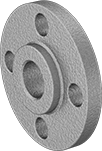 Front

Flat Surface on Back
For Use

With:

Air,

Oil,

Water
Pressure

Class: 125

Specifications

Met:

ASME

B16.

1

Fittings:

Use Schedule 40 aluminum

Pipe:

Use Schedule 40 aluminum