Chrome-Plated

Multipurpose 6061 Aluminum Rods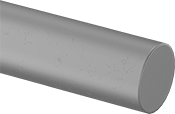 Yield

Strength:

35,

000 psi

Hardness:

Brinell 95

(Soft)

Temper: T6

Fabrication:

Extruded
The matte plating on these rods, sometimes called industrial chrome and hard chrome, creates a slippery surface that minimizes galling and prevents parts from seizing. The most widely used aluminum, 6061 is fabricated into everything from pipe fittings and containers to automotive and aerospace parts. It is strong and corrosion resistant, plus it's easy to machine and weld.
For technical drawings and 3-D models, click on a part number.

Certificates with a traceable lot number are available for these products. Download certificates from ORDER HISTORY after your order ships.
Dia.

Heat
Treatment
Temperature


Range,

°F

1 ft.

Lg.

3 ft.

Lg.

1/8

"
Hardened
-320° to 300°
0000000

3/16

"
Hardened
-320° to 300°
0000000

1/4

"
Hardened
-320° to 300°
0000000

5/16

"
Hardened
-320° to 300°
0000000

3/8

"
Hardened
-320° to 300°
0000000

1/2

"
Hardened
-320° to 300°
0000000

5/8

"
Hardened
-320° to 300°
0000000

3/4

"
Hardened
-320° to 300°
0000000
1"
Hardened
-320° to 300°
0000000