No-Gap

Flexible-Body

Cable Ties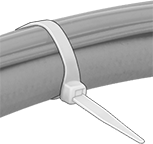 Solid Body

Perforated Body
With a thin, flexible body, these cable ties fit tightly around irregularly shaped bundles.
Narrow ties conform to material better than standard and wide cable ties.
Standard ties balance flexibility and strength, making them good for most bundling applications.
Wide ties are stronger but less flexible than narrow and standard cable ties. Use them for heavy duty applications that require extra strength.
Lg.

For

Max.


Bundle

Dia.

Breaking


Strength,

lbs.

Wd.

Thick.

For Use
Outdoors
Specifications Met

Temp.




Range,

°F

Pkg.




Qty.

Pkg.

Narrow

4"
1"
10
0.12"
0.04"
No
UL 94 V-2, UL 62275 Type 21, UL 62275 Type 2
32° to 180°
100
0000000
000000

Standard

6"
1

1/2

"
40
0.17"
0.04"
No
UL 94 V-2, UL 62275 Type 21, UL 62275 Type 2
32° to 180°
100
0000000
00000
8

1/2

"
2"
50
0.23"
0.05"
No
UL 94 V-2, UL 62275 Type 21, UL 62275 Type 2
32° to 180°
100
0000000
00000
12

1/2

"
3

1/8

"
70
0.23"
0.05"
No
UL 94 V-2, UL 62275 Type 21, UL 62275 Type 2
32° to 180°
25
0000000
00000
15"
4"
50
0.20"
0.04"
No
UL 94 V-2
32° to 180°
100
0000000
00000

Wide

15

1/2

"
4

1/8

"
120
0.33"
0.06"
No
UL 94 V-2, UL 62275 Type 21, UL 62275 Type 2
32° to 180°
5
0000000
0000
18

1/2

"
5

1/8

"
170
0.38"
0.07"
No
UL 94 V-2, UL 62275 Type 21, UL 62275 Type 2
32° to 180°
5
0000000
00000

Perforated

Body—

Nylon Plastic

Standard

7"
1

3/4

"
40
0.14"
0.04"
No
UL 94 V-2
32° to 180°
100
0000000
0000
11"
3"
40
0.14"
0.04"
No
UL 94 V-2
32° to 180°
100
0000000
0000

Black

Narrow

4"
1"
10
0.12"
0.04"
No
UL 94 V-2, UL 62275 Type 21, UL 62275 Type 2
32° to 180°
100
0000000
00000

Standard

6"
1

1/2

"
40
0.17"
0.04"
No
UL 94 V-2, UL 62275 Type 21, UL 62275 Type 2
32° to 180°
100
0000000
00000
8

1/2

"
2"
50
0.23"
0.05"
No
UL 94 V-2, UL 62275 Type 21, UL 62275 Type 2
32° to 180°
100
0000000
00000
10

1/2

"
2

1/2

"
70
0.23"
0.05"
No
UL 94 V-2, UL 62275 Type 21, UL 62275 Type 2
32° to 180°
25
0000000
00000
12

1/2

"
3

1/8

"
70
0.23"
0.05"
No
UL 94 V-2, UL 62275 Type 21, UL 62275 Type 2
32° to 180°
25
0000000
00000
15"
4"
50
0.20"
0.04"
No
UL 94 V-2
32° to 180°
100
0000000
00000

Wide

15

1/2

"
4

1/8

"
120
0.33"
0.06"
No
UL 94 V-2, UL 62275 Type 21, UL 62275 Type 2
32° to 180°
5
0000000
0000
18

1/2

"
5

1/8

"
170
0.38"
0.07"
No
UL 94 V-2, UL 62275 Type 21, UL 62275 Type 2
32° to 180°
5
0000000
00000

Perforated

Body—

Nylon Plastic

Standard

7"
1

3/4

"
40
0.14"
0.04"
No
UL 94 V-2
32° to 180°
100
0000000
0000
11"
3"
40
0.14"
0.04"
No
UL 94 V-2
32° to 180°
100
0000000
0000