Stud-End

Plug-Lock

Wire Rope End

Fittings—

For Lifting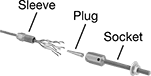 Fray the end of the wire rope with a marlin spike and screw the socket over the plug to install. An inspection hole confirms proper installation—If wire strands are visible, the fitting has been properly secured.
Use an assembly kit (not included) to support the wire rope while you drive the plug into the wire rope end.
Zinc-plated steel fittings have mild corrosion resistance.
316 stainless steel fittings are the most corrosion resistant fittings we offer. They have excellent resistance to salt water and chemicals.
Warning: Fittings must match rope diameter and be installed correctly to obtain maximum holding power. Test all assemblies for required strength before use. Never exceed load capacity. Do not use with coated rope unless the coating is removed.
For technical drawings and 3-D models, click on a part number.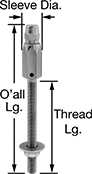 Dia.

Construction

O'all




Lg.

Size

Lg.

Sleeve


Dia.

Cap.,




lbs.

Specifications Met
Each

Steel

1/2

"
6 × 19 IWRC
6 × 19 Fiber Core
7 × 7 Strand Core
7 × 19 IWRC
7 × 19 Strand Core
11"

7/8

"-14

6

15/16

"
1

7/16

"
5,300
ASME B30.26, ASME B30.9
00000000
000000

1/2

"
6 × 19 IWRC
6 × 19 Fiber Core
7 × 7 Strand Core
7 × 19 IWRC
7 × 19 Strand Core
11"

7/8

"-14

6

15/16

"
1

7/16

"
5,300
ASME B30.26, ASME B30.9
00000000
00000

316 Stainless Steel

1/2

"
6 × 19 IWRC
6 × 19 Fiber Core
7 × 7 Strand Core
7 × 19 IWRC
7 × 19 Strand Core
11"

7/8

"-14

6

15/16

"
1

7/16

"
5,300
ASME B30.26, ASME B30.9
00000000
000000