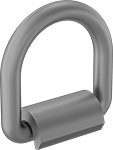 A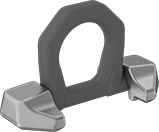 C

B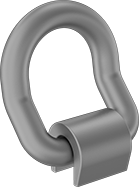 D
Weld these rings to a surface for a more secure connection than other tie-down rings. The ring pivots 180° to secure loads in various directions. They are also known as lashing rings.
Zinc-plated steel rings have mild corrosion resistance.
316 stainless steel rings have excellent resistance to salt water and chemicals.
Warning: Never use for lifting applications.
For technical drawings and 3-D models, click on a part number.
Capacity,




lbs.

Inner


Wd.

Ht.

Thick.

Style

Lg.

Wd.

Ht.

Thick.

Material
Each
A
2,000
2

9/16

"
2

11/16

"

3/8

"
D-Ring
2"

15/16

"
__

1/4

"
Low-Carbon Steel
0000000
00000

Blue Painted Steel

A
3,000
1

1/2

"
3

3/16

"

1/2

"
D-Ring
1

3/8

"
1

15/16

"
__
__
Alloy Steel
0000000
00000
A
5,000
1

3/4

"
3

7/16

"

9/16

"
D-Ring
1

5/8

"
1

15/16

"
__
__
Alloy Steel
0000000
00000
A
8,000
2"
4

1/16

"

11/16

"
D-Ring
1

13/16

"
2

3/16

"
__
__
Alloy Steel
0000000
00000
A
13,500
2

11/16

"
5

11/16

"

15/16

"
D-Ring
2

1/2

"
3

1/16

"
__
__
Alloy Steel
0000000
000000
A
20,000
2

3/4

"
6"
1

1/16

"
D-Ring
2

1/2

"
3

5/8

"
__
__
Alloy Steel
0000000
000000
C
5,000
1

7/8

"
2

3/4

"

9/16

"
D-Ring
5

1/4

"
2

5/8

"
1

1/16

"
__
Alloy Steel
0000000
000000
C
10,000
2

3/8

"
3

3/8

"

13/16

"
D-Ring
6

11/16

"
3

1/8

"
1

7/16

"
__
Alloy Steel
0000000
000000

Red Painted Steel

B
2,100
1

7/16

"
2

9/16

"
0.43"
D-Ring
1

1/4

"
1

1/4

"
__
__
Alloy Steel
0000000
00000
B
3,500
1

5/8

"
3

1/16

"
0.55"
D-Ring
1

1/2

"
1

1/2

"
__
__
Alloy Steel
0000000
00000
B
7,100
1

7/8

"
3

3/4

"
0.71"
D-Ring
1

3/4

"
1

3/4

"
__
__
Alloy Steel
0000000
00000
B
12,000
2

5/8

"
5

3/8

"
0.94"
D-Ring
2

3/8

"
2

3/8

"
__
__
Alloy Steel
0000000
00000
B
18,100
2

13/16

"
5

3/4

"
1.1"
D-Ring
2

11/16

"
2

9/16

"
__
__
Alloy Steel
0000000
00000
B
34,200
4

3/4

"
8

1/8

"
1

1/2

"
D-Ring
3

3/4

"
4

1/4

"
__
__
Alloy Steel
0000000
000000

Steel

A
4,080
2

3/8

"
3

1/2

"

1/2

"
D-Ring
2"
1

5/16

"
__

11/16

"
Low-Carbon Steel
0000000
00000
A
4,080
2

1/2

"
5

1/2

"

1/2

"
D-Ring
2"
1

5/16

"
__

3/8

"
Low-Carbon Steel
0000000
00000
A
6,130
3"
4

1/4

"

5/8

"
D-Ring
2

1/2

"
1

5/8

"
__

3/8

"
Low-Carbon Steel
0000000
00000
A
9,120
3"
4

1/2

"

3/4

"
D-Ring
2

1/4

"
1

5/8

"
__

3/8

"
Low-Carbon Steel
0000000
00000
A
15,500
3"
6"
1"
D-Ring
2

1/4

"
2

1/8

"
__

3/8

"
Low-Carbon Steel
0000000
00000
D
15,500
3"
5

1/2

"
1"
Angled D-Ring
2

1/4

"
2

1/8

"
__

1/2

"
Low-Carbon Steel
0000000
00000

316 Stainless Steel

A
3,000
2

5/16

"
3

5/8

"

1/2

"
D-Ring
2"
1

3/8

"
__

1/4

"
316 Stainless Steel
0000000
00000
A
4,500
2

15/16

"
4

1/2

"

5/8

"
D-Ring
2

9/16

"
1

3/4

"
__

3/8

"
316 Stainless Steel
0000000
000000
A
6,500
2

15/16

"
4

5/8

"

3/4

"
D-Ring
2

9/16

"
1

7/8

"
__

3/8

"
316 Stainless Steel
0000000
000000
A
8,500
3"
5

1/8

"
1"
D-Ring
2

9/16

"
2

1/8

"
__

1/2

"
316 Stainless Steel
0000000
000000