Heavy Duty
Air-Powered

Angle Grinders for Bits and Burs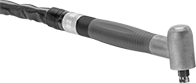 C
With high-quality bearings and collets for long spindle life, these grinders are rated for continuous use to take on tough jobs.
They are also known as die grinders.
Grinders have an angled head for accessing hard-to-reach places and a lever lock to prevent accidental start-up. Style C is a high-speed, lightweight, pencil-sized tool.
Caution: Use only accessories that have a greater rpm rating than the maximum speed of the grinder you choose.