Roller Chain Trade Size

Roller Chain Trade Size
Show
Roller Chain Standard

Roller Chain Standard

Overall Width

Overall Width
Breaking Point

Breaking Point
Specifications Met

Specifications Met
REACH (Registration, Evaluation, Authorization and Restriction of Chemicals)

REACH

(Registration,




Evaluation,

Authorization
and Restriction of

Chemicals)
DFARS (Defense Acquisition Regulations Supplement)

DFARS

(Defense

Acquisition

Regulations

Supplement)
RoHS (Restriction of Hazardous Substances)

RoHS

(Restriction

of
Hazardous

Substances)
About Roller Chain and Sprockets
ANSI Roller Chain and Links for
Flat-Belt

Pulleys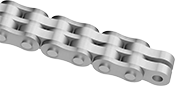 Chain

Clevis Connecting Link

Also known as leaf chain and counterbalance chain, this chain is used with pulleys rather than sprockets for low-speed pulling and as counterweight chain for machine tools, elevator and oven doors, and forklift masts. Made of interlaced plates held together by rivet pins, it has a higher tensile strength than roller chain and is used with flat pulleys instead of sprockets.
When servicing worn leaf chain, replace the entire chain—do not splice chains together or mix old and new chain.
Clevis connecting links attach your chain to a clevis.
For technical drawings and 3-D models, click on a part number.