Moisture/Particle

Separators
These separators remove 99% of moisture and particles, leaving you with nothing but clean dry air, inert gas, or steam. They have no baskets or cartridges to clean or replace. Particles fall to the bottom of the separator and are discharged through the drain trap with minimal pressure loss.
Separators with 150 psi are smaller and more efficient; a baffle separates contaminants from your media. Separators with 250 psi use centrifugal flow to remove contaminants from your media.
For technical drawings and 3-D models, click on a part number.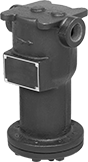 Pipe
Size

Thread
Type
Gender
Pipe
Size

Thread
Type
Gender
Removes Particle
Size Down


To,

microns

Max.


Flow
Rate
Steam
Capacity

Max.




Temp.,




°F

Specifications
Met
Each

3/4

NPT

Female

3/8

NPT

Female
10
145 scfm @ 150 psi
390 lbs./hr. @ 150 psi
450°
ASME BPVC.VIII
00000000
0000000

1/2

NPT

Female

3/8

NPT

Female
10
100 scfm @ 150 psi
235 lbs./hr. @ 150 psi
450°
ASME BPVC.VIII
00000000
000000
1

NPT

Female

3/8

NPT

Female
10
180 scfm @ 150 psi
595 lbs./hr. @ 150 psi
450°
ASME BPVC.VIII
00000000
000000
1

1/4

NPT

Female

3/8

NPT

Female
10
330 scfm @ 150 psi
900 lbs./hr. @ 150 psi
450°
ASME BPVC.VIII
00000000
000000
1

1/2

NPT

Female

1/2

NPT

Female
10
440 scfm @ 150 psi
1,650 lbs./hr. @ 150 psi
450°
ASME BPVC.VIII
00000000
00000000
2

NPT

Female

1/2

NPT

Female
10
700 scfm @ 150 psi
2,250 lbs./hr. @ 150 psi
450°
ASME BPVC.VIII
00000000
00000000
2

1/2

NPT

Female

1/2

NPT

Female
10
1,350 scfm @ 150 psi
3,800 lbs./hr. @ 150 psi
450°
ASME BPVC.VIII
00000000
00000000
3

NPT

Female

1/2

NPT

Female
10
1,800 scfm @ 150 psi
5,750 lbs./hr. @ 150 psi
450°
ASME BPVC.VIII
00000000
00000000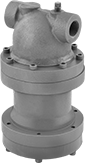 Pipe
Size

Thread
Type
Gender
Pipe
Size

Thread
Type
Gender
Pipe
Size

Thread
Type
Gender
Removes Particle
Size Down


To,

microns

Max.


Flow
Rate
Steam
Capacity

Max.




Temp.,




°F

Specifications
Met
Each

3/4

NPT

Female

3/4

NPT

Female

1/4

NPT

Female
10
125 scfm @ 150 psi
350 lbs./hr. @ 150 psi
450°
ASME BPVC.VIII
0000000
0000000
1

NPT

Female

3/4

NPT

Female

1/4

NPT

Female
10
190 scfm @ 150 psi
700 lbs./hr. @ 150 psi
450°
ASME BPVC.VIII
0000000
000000
1

1/4

NPT

Female

3/4

NPT

Female

1/4

NPT

Female
10
300 scfm @ 150 psi
1,100 lbs./hr. @ 150 psi
450°
ASME BPVC.VIII
0000000
00000000
1

1/2

NPT

Female

3/4

NPT

Female

1/4

NPT

Female
10
425 scfm @ 150 psi
1,450 lbs./hr. @ 150 psi
450°
ASME BPVC.VIII
0000000
00000000
2

NPT

Female

3/4

NPT

Female

1/4

NPT

Female
10
770 scfm @ 150 psi
2,800 lbs./hr. @ 150 psi
450°
ASME BPVC.VIII
0000000
00000000
2

1/2

NPT

Female

3/4

NPT

Female

1/4

NPT

Female
10
1,170 scfm @ 150 psi
4,300 lbs./hr. @ 150 psi
450°
ASME BPVC.VIII
0000000
00000000
3

NPT

Female

3/4

NPT

Female

1/4

NPT

Female
10
1,750 scfm @ 150 psi
6,600 lbs./hr. @ 150 psi
450°
ASME BPVC.VIII
0000000
00000000