About
Copper,

Brass,

and Bronze
Easy-to-Machine

316 Bronze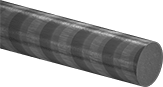 Yield

Strength:

28,

000 psi

Hardness:

Rockwell B70

(Medium)

Temper:

H02 (

1/2

Hard)

Heat

Treatable:

No
Specifications

Met:

ASTM B140
Also known as leaded commercial bronze, 316 bronze contains lead for good machinability. It will stand up to outdoor use and is widely used for cable clamps, hardware, and fasteners.
For technical drawings and 3-D models, click on a part number.

Certificates with a traceable lot number are available for these products. Download certificates from ORDER HISTORY after your order ships.
Dia.

Dia.

Tolerance Range
Straightness
Tolerance

1 ft.

Lg.

3 ft.

Lg.

6 ft.

Lg.

5/16

"
-0.0025" to 0.0025"

1/4

" per 10 ft.
0000000

3/8

"
-0.0025" to 0.0025"

1/4

" per 10 ft.
0000000

1/2

"
-0.0025" to 0.0025"

1/4

" per 10 ft.
0000000

5/8

"
-0.0025" to 0.0025"

1/4

" per 10 ft.
0000000

3/4

"
-0.0025" to 0.0025"

1/4

" per 10 ft.
0000000

7/8

"
-0.0025" to 0.0025"

1/4

" per 10 ft.
0000000
1"
-0.0025" to 0.0025"

1/4

" per 10 ft.
0000000
1

1/4

"
-0.0025" to 0.0025"

1/4

" per 10 ft.
0000000
1

1/2

"
-0.0025" to 0.0025"

1/4

" per 10 ft.
0000000
1

3/4

"
-0.0025" to 0.0025"

1/4

" per 10 ft.
0000000
2"
-0.0025" to 0.0025"

1/4

" per 10 ft.
0000000