About
Copper,

Brass,

and Bronze
High-Temperature

Nickel-Clad

Copper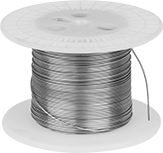 Spool
Temper

Rating:

Softened

(Annealed)

Tensile

Strength:

80,

000 psi
Specifications

Met:

ASTM B355
This copper wire is clad in nickel to provide excellent corrosion resistance at temperatures up to 1200° F while maintaining high electrical conductivity. It has a soft temper and will stay in place when bent.
For technical drawings and 3-D models, click on a part number.

Certificates with a traceable lot number are available for these products. Download certificates from ORDER HISTORY after your order ships.
Dia.

Dia.

Tolerance
Mechanical
Finish
Finish


Thick.

Lg.,




ft.

Each

Lg.,




ft.

Each
0.02"
-0.0003" to 0.0003"
Polished
0.00145"
250
00000000
000000
1,000
00000000
0000000
0.025"
-0.0003" to 0.0003"
Polished
0.00185"
130
00000000
00000
520
00000000
000000
0.032"
-0.0003" to 0.0003"
Polished
0.00233"
80
00000000
00000
320
00000000
000000
0.04"
-0.0003" to 0.0003"
Polished
0.00295"
50
00000000
00000
200
00000000
000000
0.051"
-0.0005" to 0.0005"
Polished
0.00375"
30
00000000
00000
120
00000000
000000
0.064"
-0.0005" to 0.0005"
Polished
0.00466"
20
00000000
00000
80
00000000
000000
0.08"
-0.0005" to 0.0005"
Polished
0.00588"
12
00000000
00000
50
00000000
000000

1/8

"
-0.001" to 0.001"
Polished
0.00915"
6
00000000
00000
25
00000000
000000