About Sound Levels
To choose an alarm or speaker that's loud enough, first determine the decibel (dB) rating of background noise.
About
Sump,

Water-Removal,

Condensate,

and Submersible Pumps
Water Overflow Buzzers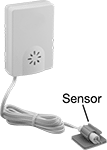 When water contacts the sensor, it triggers a buzzer to alert personnel to a leak or overflow hazard. Frequently used to monitor sinks, pipe lines, tubs, and sump pumps.
Volume
Sound
Pattern

Ht.

Wd.

Dp.

Cord


Lg.,




ft.

Material
Batteries
Included

No.

of
Batteries
Required
Battery
Size
Includes
Each
96 dB @ 1 ft.
Pulse
3

1/4

"
2

1/4

"

7/8

"
5
Plastic
No
3
AAA
Hook and Loop Mounting Tape
0000000
000000
Wi-Fi

Enabled Water Overflow and Freeze Detectors
Keep an eye on leaks, overflow, and temperature changes near your equipment, even when you're offsite. These detectors connect to your Wi-Fi to send alerts about moisture, temperature, and humidity to your smartphone or tablet. Place them near tanks and tubs to watch for overflow, or near sump pumps and pipe lines to monitor temperatures and prevent frozen pipes. When water touches one of the sensors on the detector, a buzzer also goes off, alerting anyone nearby. Rated IP44, these detectors are protected from objects larger than 1mm, such as wires, and from water splashing in any direction.
Download an app onto your smart device to program temperature and humidity ranges and set up alerts. You can also create reports that show changes in temperature and humidity over time.
To extend the area they monitor, these detectors come with a detachable cable sensor that senses moisture along its entire surface. Swap in replacement cable sensors for worn sensors, or link several together to wrap around large equipment or trace the path of a pipe. Extend them up to 500 feet from detectors.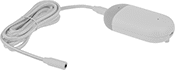 Detector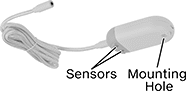 Volume
Sound
Pattern

Wd.

Ht.

Dp.

Cord


Lg.,




ft.

Material
Batteries
Included
Sensor
Location
Operating
System
Compatibility
Includes
Each
100 dBA @ 1 ft.
Continuous
3"
2"
1

1/16

"
5
Plastic
Yes
Bottom
Android 9.0 or Later, iOS 14 or Later
Detachable Cable Sensor, Mounting Screws
0000000
000000
High
Liquid-Level

Alarms for Sump Pumps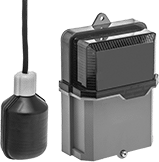 An alarm and a red light alert you when water levels rise too high. A float detects water level and activates the alarm. Alarm has a plastic housing that meets NEMA 3R for protection from dirt, falling liquids, and light splashing.
Voltage

Volume @
Distance
Plug Type
Cord


Lg.,

ft.

Environmental
Rating
Each
120V AC
82 dB @ 10 ft.
Three Prong
20
NEMA 3R

0000000
0000000