About Carbon
Steel,

Alloy

Steel,

Spring

Steel,

and Cast Iron
Hard
Wear-Resistant

52100 Alloy Steel Balls

Yield

Strength:

295,

000 psi

Hardness:

Rockwell C60

(Very

Hard)

Specifications

Met:

See table
Also known as chrome steel, 52100 is an extremely hard and wear-resistant material. These balls are often used in bearings.
For technical drawings and 3-D models, click on a part number.

Certificates with a traceable lot number are available for these products. Download certificates from ORDER HISTORY after your order ships.
Dia.

Dia.

Tolerance
Heat
Treatment

Pkg.




Qty.

Pkg.

2

3/4

"
-0.0002" to 0.0002"
Hardened
1
0000000
0000000
Abrasion-Resistant

Polyurethane Rubber Balls
Use these polyurethane balls as seals in pumps and check valves or let them bounce inside of vibrating sifters for an effective screen cleaner. They are made of polyurethane, which combines the shock absorbing qualities of rubber with the strength of plastic.
For technical drawings and 3-D models, click on a part number.

Ball
Color:

Black
Temperature

Range:

-20° to 200° F

Tensile

Strength:

5,

600 psi

For Use

Outdoors:

Yes
Dia.

Dia.

Tolerance
Durometer
Each
2

3/4

"
-0.020" to +0.020"
95A (Extra Hard)
0000000
000000
Floats for Threaded Rods

Cylindrical Polypropylene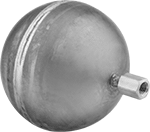 Ball Stainless Steel and Copper
Connect these floats to threaded float rods (not included). Use them to replace an existing float or combine with rods and float valve bodies (not included) to build a float valve. All are for use with water.
Polypropylene floats are lightweight and have good corrosion resistance.
Stainless steel floats have excellent corrosion resistance and are also for use with oil.
Cylindrical and rectangular floats are self-tapping, except 4" dia. floats have a threaded hose connection.
304 Stainless Steel Ball Floats
Dia.

Thread
Size

Thread
Type

Max.




Pressure,

psi

Temp.




Range,

°F

Gauge
For Container Type
Each
2

3/4

"

1/4

"-20

UNC

250
-30° to 225°
26 ga.
Open Tank, Closed Tank
0000000
000000