Furnace Draft Dampers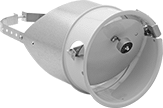 Also known as barometric dampers, these dampers improve furnace performance by automatically opening and closing to maintain a consistent airflow despite changing environmental conditions.
Single-acting dampers open inward to prevent strong drafts from pulling too much heat into the chimney vent.
Double-acting dampers open both inward and outward to relieve pressure caused by obstructions and downdrafts.
Draft Damper Type
For Duct
Trade Size
Gauge
For System Type
Connection
Type
Each
Single Acting
5, 6, 7
26
Coal, Oil
Press Fit
0000000
0000000
Single Acting
7, 8, 9
24
Coal, Oil
Press Fit
0000000
000000
Double Acting
5, 6
26
Natural Gas, Propane
Press Fit
0000000
000000
Double Acting
7, 8
26
Natural Gas, Propane
Press Fit
0000000
000000
Single Acting, Double Acting
9, 10
24
Coal, Natural Gas, Oil, Propane
Press Fit
0000000
000000
Single Acting, Double Acting
11, 12
24
Coal, Natural Gas, Oil, Propane
Press Fit
0000000
000000