Battery Cable Connector Lockouts
Hinged—
For 1 Battery Cable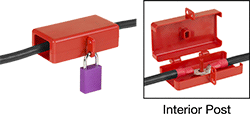 Hinged—
For 2 Battery Cables
Slide On
Padlock these lockouts over the ends of battery cables to keep forklifts, pallet jacks, and other machinery powered off during maintenance. They signal that equipment is being serviced, preventing accidental startups. These lockouts have space for two padlocks, so teams can safely perform two maintenance tasks at once.
Made from nonconductive plastic, they insulate battery terminals and protect workers from accidental shocks, helping you comply with OSHA 29 CFR 1910.147 requirements for the control of electricity. These lockouts are also rated UL 94 HB, which means they have been tested in a horizontal position for flame resistance; the slow-burning plastic keeps flames from spreading.
Hinged lockouts fully enclose battery cable ends and inline connections. Fit battery connectors, such as lugs and terminal clamps, over the internal post to hold cables in place.
Slide-on lockouts are best for large battery connectors.
Lg.

Wd.

Ht.

For

No.

of
Battery
Cables

Wd.

Ht.

Post


Dia.

Lg.

Wd.

Ht.

For

Max.




No.

of
Padlocks
For

Max.


Padlock
Shackle

Dia.

Temp.




Range,




°F

Color
Specifications
Met
Each

Hinged

Plastic

2

5/8

"
1

1/2

"
1

1/4

"
1
1"
1"

1/4

"
3

3/4

"
2

7/8

"
1

3/8

"
2

5/16

"
-40° to 212°
Red
OSHA Compliant 29 CFR 1910.147, UL 94 HB
0000000
000000
2

5/8

"
2

3/4

"
1

5/8

"
2
2"
1

3/8

"

1/4

"
5

3/4

"
4

1/8

"
1

3/4

"
2

5/16

"
-40° to 212°
Red
OSHA Compliant 29 CFR 1910.147, UL 94 HB
0000000
00000

Slide On

Plastic

4

1/2

"
2

7/8

"
1

3/8

"
__
__
__
__
5

1/4

"
3

1/8

"
2

1/2

"
2

5/16

"
-40° to 212°
Red
OSHA Compliant 29 CFR 1910.147, UL 94 HB
0000000
00000