Battery Terminal Ratchet Crimpers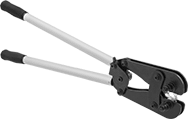 The ratchet applies the correct pressure to ensure a complete crimp every time. The rotating dies in these crimpers are coded to match battery cable and terminals, making it easier to select the correct die.
For Stranded
Wire Gauge

Lg.

Material
Grip Material
Each
8-4/0
26"
Steel
Vinyl Plastic
0000000
0000000
Battery Terminal
Hammer-On

Crimpers

A compact and economical alternative to standard battery terminal crimpers. Raise the pin to place battery cable and terminal in the slot, then hammer the top of the pin to crimp.
For Stranded
Wire Gauge

Ht.

Wd.

Dp.

Material
Pin Material
Each
8-4/0
3

1/2

"
2

1/4

"
2

1/4

"
Iron
Hardened Steel
0000000
000000