Battery-Powered

Portable Fans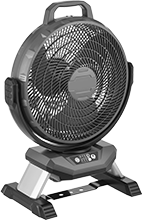 Cool down areas where you don't have an outlet—these fans are lightweight and battery-powered so you can tote them anywhere. The battery and charger are sold separately. You can also connect these fans to an electrical outlet with an extension cord (not included).
Clear leaves and debris. These blowers come with a bag attachment and can also be used as a vacuum.
Battery operated blowers cannot be sold to Canada due to local energy efficiency requirements.