Disposable Beard Covers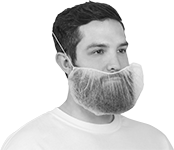 Minimizing facial hair contamination, these beard covers are often used in food-processing and pharmaceutical plants. They're made of breathable, lightweight polypropylene mesh. Slip them on and off using the single elastic head strap.
Metal-detectable beard covers have an aluminum strip that will set off metal detectors if they fall into your line. They help you comply with Hazard Analysis and Critical Control Point (HACCP) programs for preventing contaminated food from leaving your facility. They're also bright blue, which makes them easy to find and retrieve.