Removable Drill Bushings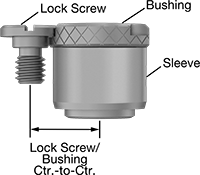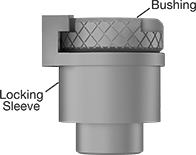 Replace worn bushings and quickly change IDs without needing to repeatedly use a lever press. Instead of pressing bushings in and out of your jig fixture, which can cause damage, these bushings slide in and out of sleeves (sold separately). By swapping in a bushing with a different ID, you can change the size of your bit and still use the same hole in your fixture. All are made to tight dimensional tolerances for consistent, accurate results, even as you change them in and out. They're also known as slip-fixed and renewable bushings.
Choose a sleeve with a length that matches the length of your bushing. To prevent bushings from spinning inside the sleeve as you drill, pair a standard sleeve with a lock screw, or use a locking sleeve.
Lock screws thread into a hole in your jig. The head of the screw fits into a notch on the bushing's head, which keeps the bushing from spinning.
Locking sleeves act as a sleeve and lock screw at the same time. They have a raised flange that fits into the notch on the bushing's head, keeping the bushing in place.
For additional sizes, see Made-to-Order Removable Drill Bushings.
For technical drawings and 3-D models, click on a part number.


OD

Lg.

For
Drill
Bit Size
OD

Thick.

Lock


Screw/Bushing




Ctr.-to-Ctr.

ID
OD

Lg.

Drill
Bushing
Type
Material

1-5

6-11

12-Up

3/16

"

1/4

"
No. 80

5/16

"

3/16

"

17/64

"
0.0001" to 0.0004"
-0.0002" to 0"
-0.015" to 0.015"
SF
Steel
00000000
000000
000000
000000

3/16

"

5/16

"
No. 80

5/16

"

3/16

"

17/64

"
0.0001" to 0.0004"
-0.0002" to 0"
-0.015" to 0.015"
SF
Steel
00000000
00000
00000
00000

3/16

"

3/8

"
No. 80

5/16

"

3/16

"

17/64

"
0.0001" to 0.0004"
-0.0002" to 0"
-0.015" to 0.015"
SF
Steel
00000000
00000
00000
00000

3/16

"

1/2

"
No. 80

5/16

"

3/16

"

17/64

"
0.0001" to 0.0004"
-0.0002" to 0"
-0.015" to 0.015"
SF
Steel
00000000
00000
00000
00000

3/16

"

5/8

"
No. 80

5/16

"

3/16

"

17/64

"
0.0001" to 0.0004"
-0.0002" to 0"
-0.015" to 0.015"
SF
Steel
00000000
00000
00000
00000

3/16

"

3/4

"
No. 80

5/16

"

3/16

"

17/64

"
0.0001" to 0.0004"
-0.0002" to 0"
-0.015" to 0.015"
SF
Steel
00000000
00000
00000
00000

5/16

"

3/4

"

1/16

"

35/64

"

1/4

"

1/2

"
0.0001" to 0.0004"
-0.0002" to 0"
-0.015" to 0.015"
SF
Steel
00000000
00000
00000
00000

3/16

"

1/2

"
No. 47

5/16

"

3/16

"

17/64

"
0.0001" to 0.0004"
-0.0002" to 0"
-0.015" to 0.015"
SF
Steel
00000000
00000
00000
00000

5/16

"

3/8

"

3/32

"

35/64

"

1/4

"

1/2

"
0.0001" to 0.0004"
-0.0002" to 0"
-0.015" to 0.015"
SF
Steel
00000000
00000
00000
00000

5/16

"

1/2

"

3/32

"

35/64

"

1/4

"

1/2

"
0.0001" to 0.0004"
-0.0002" to 0"
-0.015" to 0.015"
SF
Steel
00000000
00000
00000
00000

5/16

"

3/4

"

3/32

"

35/64

"

1/4

"

1/2

"
0.0001" to 0.0004"
-0.0002" to 0"
-0.015" to 0.015"
SF
Steel
00000000
00000
00000
00000

5/16

"
1"

3/32

"

35/64

"

1/4

"

1/2

"
0.0001" to 0.0004"
-0.0002" to 0"
-0.015" to 0.015"
SF
Steel
00000000
00000
00000
00000

5/16

"
1"
No. 40

35/64

"

1/4

"

1/2

"
0.0001" to 0.0004"
-0.0002" to 0"
-0.015" to 0.015"
SF
Steel
00000000
00000
00000
00000

1/4

"

1/4

"

7/64

"

7/16

"

1/4

"

23/64

"
0.0001" to 0.0004"
-0.0002" to 0"
-0.015" to 0.015"
SF
Steel
00000000
00000
00000
00000

5/16

"

1/2

"

7/64

"

35/64

"

1/4

"

1/2

"
0.0001" to 0.0004"
-0.0002" to 0"
-0.015" to 0.015"
SF
Steel
00000000
00000
00000
00000

1/4

"

1/4

"

1/8

"

7/16

"

1/4

"

23/64

"
0.0001" to 0.0004"
-0.0002" to 0"
-0.015" to 0.015"
SF
Steel
00000000
00000
00000
00000

1/4

"

3/8

"

1/8

"

7/16

"

1/4

"

23/64

"
0.0001" to 0.0004"
-0.0002" to 0"
-0.015" to 0.015"
SF
Steel
00000000
00000
00000
00000

1/4

"

1/2

"

1/8

"

7/16

"

1/4

"

23/64

"
0.0001" to 0.0004"
-0.0002" to 0"
-0.015" to 0.015"
SF
Steel
00000000
00000
00000
00000

1/4

"

3/4

"

1/8

"

7/16

"

1/4

"

23/64

"
0.0001" to 0.0004"
-0.0002" to 0"
-0.015" to 0.015"
SF
Steel
00000000
00000
00000
00000

5/16

"

3/8

"

1/8

"

35/64

"

1/4

"

1/2

"
0.0001" to 0.0004"
-0.0002" to 0"
-0.015" to 0.015"
SF
Steel
00000000
00000
00000
00000

5/16

"

1/2

"

1/8

"

35/64

"

1/4

"

1/2

"
0.0001" to 0.0004"
-0.0002" to 0"
-0.015" to 0.015"
SF
Steel
00000000
00000
00000
00000

5/16

"

3/4

"

1/8

"

35/64

"

1/4

"

1/2

"
0.0001" to 0.0004"
-0.0002" to 0"
-0.015" to 0.015"
SF
Steel
00000000
00000
00000
00000

5/16

"
1"

1/8

"

35/64

"

1/4

"

1/2

"
0.0001" to 0.0004"
-0.0002" to 0"
-0.015" to 0.015"
SF
Steel
00000000
00000
00000
00000

5/16

"
1

3/8

"

1/8

"

35/64

"

1/4

"

1/2

"
0.0001" to 0.0004"
-0.0002" to 0"
-0.015" to 0.015"
SF
Steel
00000000
00000
00000
00000

1/4

"

1/4

"
No. 30

7/16

"

1/4

"

23/64

"
0.0001" to 0.0004"
-0.0002" to 0"
-0.015" to 0.015"
SF
Steel
00000000
00000
00000
00000

1/4

"

5/16

"
No. 30

7/16

"

1/4

"

23/64

"
0.0001" to 0.0004"
-0.0002" to 0"
-0.015" to 0.015"
SF
Steel
00000000
00000
00000
00000

1/4

"

1/2

"
No. 30

7/16

"

1/4

"

23/64

"
0.0001" to 0.0004"
-0.0002" to 0"
-0.015" to 0.015"
SF
Steel
00000000
00000
00000
00000

5/16

"

1/2

"
No. 30

35/64

"

1/4

"

1/2

"
0.0001" to 0.0004"
-0.0002" to 0"
-0.015" to 0.015"
SF
Steel
00000000
00000
00000
00000

1/4

"

1/4

"
No. 29

7/16

"

1/4

"

23/64

"
0.0001" to 0.0004"
-0.0002" to 0"
-0.015" to 0.015"
SF
Steel
00000000
00000
00000
00000

1/4

"

3/8

"
No. 29

7/16

"

1/4

"

23/64

"
0.0001" to 0.0004"
-0.0002" to 0"
-0.015" to 0.015"
SF
Steel
00000000
00000
00000
00000

1/4

"

1/2

"
No. 29

7/16

"

1/4

"

23/64

"
0.0001" to 0.0004"
-0.0002" to 0"
-0.015" to 0.015"
SF
Steel
00000000
00000
00000
00000

1/4

"
1"
No. 29

7/16

"

1/4

"

23/64

"
0.0001" to 0.0004"
-0.0002" to 0"
-0.015" to 0.015"
SF
Steel
00000000
00000
00000
00000

5/16

"

1/2

"
No. 29

35/64

"

1/4

"

1/2

"
0.0001" to 0.0004"
-0.0002" to 0"
-0.015" to 0.015"
SF
Steel
00000000
00000
00000
00000

5/16

"

1/2

"

9/64

"

35/64

"

1/4

"

1/2

"
0.0001" to 0.0004"
-0.0002" to 0"
-0.015" to 0.015"
SF
Steel
00000000
00000
00000
00000

5/16

"

1/2

"
No. 27

35/64

"

1/4

"

1/2

"
0.0001" to 0.0004"
-0.0002" to 0"
-0.015" to 0.015"
SF
Steel
00000000
00000
00000
00000

5/16

"

3/4

"
No. 26

35/64

"

1/4

"

1/2

"
0.0001" to 0.0004"
-0.0002" to 0"
-0.015" to 0.015"
SF
Steel
00000000
00000
00000
00000

5/16

"

1/2

"
No. 25

35/64

"

1/4

"

1/2

"
0.0001" to 0.0004"
-0.0002" to 0"
-0.015" to 0.015"
SF
Steel
00000000
00000
00000
00000

5/16

"

1/2

"
No. 23

35/64

"

1/4

"

1/2

"
0.0001" to 0.0004"
-0.0002" to 0"
-0.015" to 0.015"
SF
Steel
00000000
00000
00000
00000

5/16

"

3/8

"

5/32

"

35/64

"

1/4

"

1/2

"
0.0001" to 0.0004"
-0.0002" to 0"
-0.015" to 0.015"
SF
Steel
00000000
00000
00000
00000

5/16

"

1/2

"

5/32

"

35/64

"

1/4

"

1/2

"
0.0001" to 0.0004"
-0.0002" to 0"
-0.015" to 0.015"
SF
Steel
00000000
00000
00000
00000

5/16

"

3/4

"

5/32

"

35/64

"

1/4

"

1/2

"
0.0001" to 0.0004"
-0.0002" to 0"
-0.015" to 0.015"
SF
Steel
00000000
00000
00000
00000

5/16

"
1"

5/32

"

35/64

"

1/4

"

1/2

"
0.0001" to 0.0004"
-0.0002" to 0"
-0.015" to 0.015"
SF
Steel
00000000
00000
00000
00000

1/2

"

1/2

"

5/32

"

51/64

"

1/4

"

5/8

"
0.0001" to 0.0004"
-0.0002" to 0"
-0.015" to 0.015"
SF
Steel
00000000
00000
00000
00000

5/16

"
1"
No. 22

35/64

"

1/4

"

1/2

"
0.0001" to 0.0004"
-0.0002" to 0"
-0.015" to 0.015"
SF
Steel
00000000
00000
00000
00000

5/16

"

3/8

"
No. 21

35/64

"

1/4

"

1/2

"
0.0001" to 0.0004"
-0.0002" to 0"
-0.015" to 0.015"
SF
Steel
00000000
00000
00000
00000

5/16

"

1/2

"
No. 21

35/64

"

1/4

"

1/2

"
0.0001" to 0.0004"
-0.0002" to 0"
-0.015" to 0.015"
SF
Steel
0000000
00000
00000
00000

5/16

"

3/8

"

11/64

"

35/64

"

1/4

"

1/2

"
0.0001" to 0.0004"
-0.0002" to 0"
-0.015" to 0.015"
SF
Steel
00000000
00000
00000
00000

5/16

"

1/2

"

11/64

"

35/64

"

1/4

"

1/2

"
0.0001" to 0.0004"
-0.0002" to 0"
-0.015" to 0.015"
SF
Steel
00000000
00000
00000
00000

5/16

"

1/2

"
No. 17

35/64

"

1/4

"

1/2

"
0.0001" to 0.0004"
-0.0002" to 0"
-0.015" to 0.015"
SF
Steel
00000000
00000
00000
00000

5/16

"
1"
No. 13

35/64

"

1/4

"

1/2

"
0.0001" to 0.0004"
-0.0002" to 0"
-0.015" to 0.015"
SF
Steel
00000000
00000
00000
00000

1/2

"

1/2

"
No. 13

51/64

"

1/4

"

5/8

"
0.0001" to 0.0004"
-0.0002" to 0"
-0.015" to 0.015"
SF
Steel
00000000
00000
00000
00000

5/16

"

1/4

"

3/16

"

35/64

"

1/4

"

1/2

"
0.0001" to 0.0004"
-0.0002" to 0"
-0.015" to 0.015"
SF
Steel
00000000
00000
00000
00000

5/16

"

3/8

"

3/16

"

35/64

"

1/4

"

1/2

"
0.0001" to 0.0004"
-0.0002" to 0"
-0.015" to 0.015"
SF
Steel
00000000
00000
00000
00000

5/16

"

1/2

"

3/16

"

35/64

"

1/4

"

1/2

"
0.0001" to 0.0004"
-0.0002" to 0"
-0.015" to 0.015"
SF
Steel
00000000
00000
00000
00000

5/16

"

3/4

"

3/16

"

35/64

"

1/4

"

1/2

"
0.0001" to 0.0004"
-0.0002" to 0"
-0.015" to 0.015"
SF
Steel
00000000
00000
00000
00000

1/2

"

5/16

"

3/16

"

51/64

"

1/4

"

5/8

"
0.0001" to 0.0004"
-0.0002" to 0"
-0.015" to 0.015"
SF
Steel
00000000
00000
00000
00000

1/2

"

3/8

"

3/16

"

51/64

"

1/4

"

5/8

"
0.0001" to 0.0004"
-0.0002" to 0"
-0.015" to 0.015"
SF
Steel
00000000
00000
00000
00000

1/2

"

1/2

"

3/16

"

51/64

"

1/4

"

5/8

"
0.0001" to 0.0004"
-0.0002" to 0"
-0.015" to 0.015"
SF
Steel
00000000
00000
00000
00000

1/2

"

3/4

"

3/16

"

51/64

"

1/4

"

5/8

"
0.0001" to 0.0004"
-0.0002" to 0"
-0.015" to 0.015"
SF
Steel
00000000
00000
00000
00000

1/2

"
1"

3/16

"

51/64

"

1/4

"

5/8

"
0.0001" to 0.0004"
-0.0002" to 0"
-0.015" to 0.015"
SF
Steel
00000000
00000
00000
00000

1/2

"
1

3/8

"

3/16

"

51/64

"

1/4

"

5/8

"
0.0001" to 0.0004"
-0.0002" to 0"
-0.015" to 0.015"
SF
Steel
00000000
00000
00000
00000

1/2

"

1/2

"
No. 11

51/64

"

1/4

"

5/8

"
0.0001" to 0.0004"
-0.0002" to 0"
-0.015" to 0.015"
SF
Steel
00000000
00000
00000
00000

1/2

"

1/2

"
No. 10

51/64

"

1/4

"

5/8

"
0.0001" to 0.0004"
-0.0002" to 0"
-0.015" to 0.015"
SF
Steel
00000000
00000
00000
00000

1/2

"
1"
No. 10

51/64

"

1/4

"

5/8

"
0.0001" to 0.0004"
-0.0002" to 0"
-0.015" to 0.015"
SF
Steel
00000000
00000
00000
00000

1/2

"

1/2

"
No. 9

51/64

"

1/4

"

5/8

"
0.0001" to 0.0004"
-0.0002" to 0"
-0.015" to 0.015"
SF
Steel
00000000
00000
00000
00000

3/8

"

3/4

"
No. 8

5/8

"

1/4

"

29/64

"
0.0001" to 0.0004"
-0.0002" to 0"
-0.015" to 0.015"
SF
Steel
00000000
00000
00000
00000

3/8

"

1/4

"
No. 7

5/8

"

1/4

"

29/64

"
0.0001" to 0.0004"
-0.0002" to 0"
-0.015" to 0.015"
SF
Steel
00000000
00000
00000
0000

3/8

"

5/8

"
No. 7

5/8

"

1/4

"

29/64

"
0.0001" to 0.0004"
-0.0002" to 0"
-0.015" to 0.015"
SF
Steel
00000000
00000
00000
00000

3/8

"

3/4

"
No. 7

5/8

"

1/4

"

29/64

"
0.0001" to 0.0004"
-0.0002" to 0"
-0.015" to 0.015"
SF
Steel
00000000
00000
00000
00000

1/2

"

3/4

"
No. 7

51/64

"

1/4

"

5/8

"
0.0001" to 0.0004"
-0.0002" to 0"
-0.015" to 0.015"
SF
Steel
00000000
00000
00000
00000

1/2

"

1/2

"

13/64

"

51/64

"

1/4

"

5/8

"
0.0001" to 0.0004"
-0.0002" to 0"
-0.015" to 0.015"
SF
Steel
00000000
00000
00000
00000

1/2

"

3/4

"

13/64

"

51/64

"

1/4

"

5/8

"
0.0001" to 0.0004"
-0.0002" to 0"
-0.015" to 0.015"
SF
Steel
00000000
00000
00000
00000

1/2

"
1"

13/64

"

51/64

"

1/4

"

5/8

"
0.0001" to 0.0004"
-0.0002" to 0"
-0.015" to 0.015"
SF
Steel
00000000
00000
00000
00000

1/2

"

1/2

"
No. 3

51/64

"

1/4

"

5/8

"
0.0001" to 0.0004"
-0.0002" to 0"
-0.015" to 0.015"
SF
Steel
00000000
00000
00000
00000

1/2

"
1"
No. 3

51/64

"

1/4

"

5/8

"
0.0001" to 0.0004"
-0.0002" to 0"
-0.015" to 0.015"
SF
Steel
00000000
00000
00000
00000

3/8

"

1/4

"

7/32

"

5/8

"

1/4

"

29/64

"
0.0001" to 0.0004"
-0.0002" to 0"
-0.015" to 0.015"
SF
Steel
00000000
00000
00000
0000

3/8

"

1/2

"

7/32

"

5/8

"

1/4

"

29/64

"
0.0001" to 0.0004"
-0.0002" to 0"
-0.015" to 0.015"
SF
Steel
00000000
00000
00000
00000

3/8

"

3/4

"

7/32

"

5/8

"

1/4

"

29/64

"
0.0001" to 0.0004"
-0.0002" to 0"
-0.015" to 0.015"
SF
Steel
00000000
00000
00000
00000

3/8

"
1"

7/32

"

5/8

"

1/4

"

29/64

"
0.0001" to 0.0004"
-0.0002" to 0"
-0.015" to 0.015"
SF
Steel
00000000
00000
00000
00000

1/2

"

1/2

"

7/32

"

51/64

"

1/4

"

5/8

"
0.0001" to 0.0004"
-0.0002" to 0"
-0.015" to 0.015"
SF
Steel
00000000
00000
00000
00000

1/2

"

3/4

"

7/32

"

51/64

"

1/4

"

5/8

"
0.0001" to 0.0004"
-0.0002" to 0"
-0.015" to 0.015"
SF
Steel
00000000
00000
00000
00000

1/2

"
1"

7/32

"

51/64

"

1/4

"

5/8

"
0.0001" to 0.0004"
-0.0002" to 0"
-0.015" to 0.015"
SF
Steel
00000000
00000
00000
00000

1/2

"

1/2

"
No. 2

51/64

"

1/4

"

5/8

"
0.0001" to 0.0004"
-0.0002" to 0"
-0.015" to 0.015"
SF
Steel
00000000
00000
00000
00000

1/2

"

1/2

"
No. 1

51/64

"

1/4

"

5/8

"
0.0001" to 0.0004"
-0.0002" to 0"
-0.015" to 0.015"
SF
Steel
00000000
00000
00000
00000

1/2

"

3/4

"
No. 1

51/64

"

1/4

"

5/8

"
0.0001" to 0.0004"
-0.0002" to 0"
-0.015" to 0.015"
SF
Steel
00000000
00000
00000
00000

1/2

"
1"
No. 1

51/64

"

1/4

"

5/8

"
0.0001" to 0.0004"
-0.0002" to 0"
-0.015" to 0.015"
SF
Steel
00000000
00000
00000
00000

1/2

"

1/2

"

15/64

"

51/64

"

1/4

"

5/8

"
0.0001" to 0.0004"
-0.0002" to 0"
-0.015" to 0.015"
SF
Steel
00000000
00000
00000
00000

1/2

"

3/4

"

15/64

"

51/64

"

1/4

"

5/8

"
0.0001" to 0.0004"
-0.0002" to 0"
-0.015" to 0.015"
SF
Steel
00000000
00000
00000
00000

1/2

"

1/2

"
B

51/64

"

1/4

"

5/8

"
0.0001" to 0.0004"
-0.0002" to 0"
-0.015" to 0.015"
SF
Steel
00000000
00000
00000
00000

7/16

"

1/2

"

1/4

", E

5/8

"

1/4

"

29/64

"
0.0001" to 0.0004"
-0.0002" to 0"
-0.015" to 0.015"
SF
Steel
00000000
00000
00000
00000

7/16

"

5/8

"

1/4

", E

5/8

"

1/4

"

29/64

"
0.0001" to 0.0004"
-0.0002" to 0"
-0.015" to 0.015"
SF
Steel
00000000
00000
00000
00000

7/16

"

3/4

"

1/4

", E

5/8

"

1/4

"

29/64

"
0.0001" to 0.0004"
-0.0002" to 0"
-0.015" to 0.015"
SF
Steel
00000000
00000
00000
00000

7/16

"
1"

1/4

", E

5/8

"

1/4

"

29/64

"
0.0001" to 0.0004"
-0.0002" to 0"
-0.015" to 0.015"
SF
Steel
00000000
00000
00000
00000

1/2

"

1/4

"

1/4

", E

51/64

"

1/4

"

5/8

"
0.0001" to 0.0004"
-0.0002" to 0"
-0.015" to 0.015"
SF
Steel
00000000
00000
00000
00000

1/2

"

5/16

"

1/4

", E

51/64

"

1/4

"

5/8

"
0.0001" to 0.0004"
-0.0002" to 0"
-0.015" to 0.015"
SF
Steel
00000000
00000
0000
0000

1/2

"

3/8

"

1/4

", E

51/64

"

1/4

"

5/8

"
0.0001" to 0.0004"
-0.0002" to 0"
-0.015" to 0.015"
SF
Steel
00000000
00000
00000
00000

1/2

"

1/2

"

1/4

", E

51/64

"

1/4

"

5/8

"
0.0001" to 0.0004"
-0.0002" to 0"
-0.015" to 0.015"
SF
Steel
00000000
00000
00000
00000

1/2

"

3/4

"

1/4

", E

51/64

"

1/4

"

5/8

"
0.0001" to 0.0004"
-0.0002" to 0"
-0.015" to 0.015"
SF
Steel
00000000
00000
00000
00000

1/2

"
1"

1/4

", E

51/64

"

1/4

"

5/8

"
0.0001" to 0.0004"
-0.0002" to 0"
-0.015" to 0.015"
SF
Steel
00000000
00000
00000
00000

1/2

"
1

3/8

"

1/4

", E

51/64

"

1/4

"

5/8

"
0.0001" to 0.0004"
-0.0002" to 0"
-0.015" to 0.015"
SF
Steel
00000000
00000
00000
00000

3/4

"

1/2

"

1/4

", E
1

3/64

"

1/4

"

3/4

"
0.0001" to 0.0004"
-0.0002" to 0"
-0.015" to 0.015"
SF
Steel
00000000
00000
00000
00000

1/2

"

1/2

"
F

51/64

"

1/4

"

5/8

"
0.0001" to 0.0005"
-0.0002" to 0"
-0.015" to 0.015"
SF
Steel
00000000
00000
00000
00000

1/2

"

3/4

"
F

51/64

"

1/4

"

5/8

"
0.0001" to 0.0005"
-0.0002" to 0"
-0.015" to 0.015"
SF
Steel
00000000
00000
00000
00000

1/2

"

1/2

"

17/64

"

51/64

"

1/4

"

5/8

"
0.0001" to 0.0005"
-0.0002" to 0"
-0.015" to 0.015"
SF
Steel
00000000
00000
00000
00000

1/2

"

3/4

"

17/64

"

51/64

"

1/4

"

5/8

"
0.0001" to 0.0005"
-0.0002" to 0"
-0.015" to 0.015"
SF
Steel
00000000
00000
00000
00000

1/2

"
1"

17/64

"

51/64

"

1/4

"

5/8

"
0.0001" to 0.0005"
-0.0002" to 0"
-0.015" to 0.015"
SF
Steel
00000000
00000
00000
00000

1/2

"

1/2

"

9/32

"

51/64

"

1/4

"

5/8

"
0.0001" to 0.0005"
-0.0002" to 0"
-0.015" to 0.015"
SF
Steel
00000000
00000
00000
00000

1/2

"

3/4

"

9/32

"

51/64

"

1/4

"

5/8

"
0.0001" to 0.0005"
-0.0002" to 0"
-0.015" to 0.015"
SF
Steel
00000000
00000
00000
00000

1/2

"
1"

9/32

"

51/64

"

1/4

"

5/8

"
0.0001" to 0.0005"
-0.0002" to 0"
-0.015" to 0.015"
SF
Steel
00000000
00000
00000
00000

1/2

"

1/2

"

19/64

"

51/64

"

1/4

"

5/8

"
0.0001" to 0.0005"
-0.0002" to 0"
-0.015" to 0.015"
SF
Steel
00000000
00000
00000
00000

1/2

"

1/2

"
N

51/64

"

1/4

"

5/8

"
0.0001" to 0.0005"
-0.0002" to 0"
-0.015" to 0.015"
SF
Steel
00000000
00000
00000
00000

1/2

"

1/4

"

5/16

"

51/64

"

1/4

"

5/8

"
0.0001" to 0.0005"
-0.0002" to 0"
-0.015" to 0.015"
SF
Steel
00000000
00000
00000
00000

1/2

"

3/8

"

5/16

"

51/64

"

1/4

"

5/8

"
0.0001" to 0.0005"
-0.0002" to 0"
-0.015" to 0.015"
SF
Steel
00000000
00000
00000
00000

1/2

"

1/2

"

5/16

"

51/64

"

1/4

"

5/8

"
0.0001" to 0.0005"
-0.0002" to 0"
-0.015" to 0.015"
SF
Steel
00000000
00000
00000
00000

1/2

"

3/4

"

5/16

"

51/64

"

1/4

"

5/8

"
0.0001" to 0.0005"
-0.0002" to 0"
-0.015" to 0.015"
SF
Steel
00000000
00000
00000
00000

1/2

"
1"

5/16

"

51/64

"

1/4

"

5/8

"
0.0001" to 0.0005"
-0.0002" to 0"
-0.015" to 0.015"
SF
Steel
00000000
00000
00000
00000

1/2

"
1

3/8

"

5/16

"

51/64

"

1/4

"

5/8

"
0.0001" to 0.0005"
-0.0002" to 0"
-0.015" to 0.015"
SF
Steel
00000000
00000
00000
00000

1/2

"
1

1/2

"

5/16

"

51/64

"

1/4

"

5/8

"
0.0001" to 0.0005"
-0.0002" to 0"
-0.015" to 0.015"
SF
Steel
00000000
00000
00000
00000

9/16

"

1/2

"

5/16

"

7/8

"

1/4

"

37/64

"
0.0001" to 0.0005"
-0.0002" to 0"
-0.015" to 0.015"
SF
Steel
00000000
00000
00000
00000

9/16

"

5/8

"

5/16

"

7/8

"

1/4

"

37/64

"
0.0001" to 0.0005"
-0.0002" to 0"
-0.015" to 0.015"
SF
Steel
00000000
00000
00000
00000

9/16

"

3/4

"

5/16

"

7/8

"

1/4

"

37/64

"
0.0001" to 0.0005"
-0.0002" to 0"
-0.015" to 0.015"
SF
Steel
00000000
00000
00000
00000

9/16

"
1"

5/16

"

7/8

"

1/4

"

37/64

"
0.0001" to 0.0005"
-0.0002" to 0"
-0.015" to 0.015"
SF
Steel
00000000
00000
00000
00000

3/4

"

1/2

"

5/16

"
1

3/64

"

1/4

"

3/4

"
0.0001" to 0.0005"
-0.0002" to 0"
-0.015" to 0.015"
SF
Steel
00000000
00000
00000
00000

3/4

"

3/4

"

5/16

"
1

3/64

"

1/4

"

3/4

"
0.0001" to 0.0005"
-0.0002" to 0"
-0.015" to 0.015"
SF
Steel
00000000
00000
00000
00000

3/4

"
1"

5/16

"
1

3/64

"

1/4

"

3/4

"
0.0001" to 0.0005"
-0.0002" to 0"
-0.015" to 0.015"
SF
Steel
00000000
00000
00000
00000

1/2

"

1/2

"
O

51/64

"

1/4

"

5/8

"
0.0001" to 0.0005"
-0.0002" to 0"
-0.015" to 0.015"
SF
Steel
00000000
00000
00000
00000

1/2

"

3/8

"

21/64

"

51/64

"

1/4

"

5/8

"
0.0001" to 0.0005"
-0.0002" to 0"
-0.015" to 0.015"
SF
Steel
00000000
00000
00000
00000

1/2

"

1/2

"

21/64

"

51/64

"

1/4

"

5/8

"
0.0001" to 0.0005"
-0.0002" to 0"
-0.015" to 0.015"
SF
Steel
00000000
00000
00000
00000

1/2

"
1"

21/64

"

51/64

"

1/4

"

5/8

"
0.0001" to 0.0005"
-0.0002" to 0"
-0.015" to 0.015"
SF
Steel
00000000
00000
00000
00000

3/4

"
2

1/8

"

21/64

"
1

3/64

"

1/4

"

3/4

"
0.0001" to 0.0005"
-0.0002" to 0"
-0.015" to 0.015"
SF
Steel
00000000
00000
00000
00000

1/2

"

3/8

"
Q

51/64

"

1/4

"

5/8

"
0.0001" to 0.0005"
-0.0002" to 0"
-0.015" to 0.015"
SF
Steel
00000000
00000
00000
00000

1/2

"

1/2

"
Q

51/64

"

1/4

"

5/8

"
0.0001" to 0.0005"
-0.0002" to 0"
-0.015" to 0.015"
SF
Steel
00000000
00000
00000
00000

1/2

"

1/2

"

11/32

"

51/64

"

1/4

"

5/8

"
0.0001" to 0.0005"
-0.0002" to 0"
-0.015" to 0.015"
SF
Steel
00000000
00000
00000
00000

1/2

"

3/4

"

11/32

"

51/64

"

1/4

"

5/8

"
0.0001" to 0.0005"
-0.0002" to 0"
-0.015" to 0.015"
SF
Steel
00000000
00000
00000
00000

1/2

"
1"

11/32

"

51/64

"

1/4

"

5/8

"
0.0001" to 0.0005"
-0.0002" to 0"
-0.015" to 0.015"
SF
Steel
00000000
00000
00000
00000

3/4

"
1

3/8

"

11/32

"
1

3/64

"

1/4

"

3/4

"
0.0001" to 0.0005"
-0.0002" to 0"
-0.015" to 0.015"
SF
Steel
00000000
00000
00000
00000

3/4

"
1

3/8

"

23/64

"
1

3/64

"

1/4

"

3/4

"
0.0001" to 0.0005"
-0.0002" to 0"
-0.015" to 0.015"
SF
Steel
00000000
00000
00000
00000

1/2

"

1/2

"

3/8

"

51/64

"

1/4

"

5/8

"
0.0001" to 0.0005"
-0.0002" to 0"
-0.015" to 0.015"
SF
Steel
00000000
00000
00000
00000

5/8

"

3/8

"

3/8

"

7/8

"

1/4

"

37/64

"
0.0001" to 0.0005"
-0.0002" to 0"
-0.015" to 0.015"
SF
Steel
00000000
00000
00000
00000

5/8

"

1/2

"

3/8

"

7/8

"

1/4

"

37/64

"
0.0001" to 0.0005"
-0.0002" to 0"
-0.015" to 0.015"
SF
Steel
00000000
00000
00000
00000

5/8

"

5/8

"

3/8

"

7/8

"

1/4

"

37/64

"
0.0001" to 0.0005"
-0.0002" to 0"
-0.015" to 0.015"
SF
Steel
00000000
00000
00000
00000

5/8

"

3/4

"

3/8

"

7/8

"

1/4

"

37/64

"
0.0001" to 0.0005"
-0.0002" to 0"
-0.015" to 0.015"
SF
Steel
00000000
00000
00000
00000

5/8

"
1"

3/8

"

7/8

"

1/4

"

37/64

"
0.0001" to 0.0005"
-0.0002" to 0"
-0.015" to 0.015"
SF
Steel
00000000
00000
00000
00000

3/4

"

1/2

"

3/8

"
1

3/64

"

1/4

"

3/4

"
0.0001" to 0.0005"
-0.0002" to 0"
-0.015" to 0.015"
SF
Steel
00000000
00000
00000
00000

3/4

"

3/4

"

3/8

"
1

3/64

"

1/4

"

3/4

"
0.0001" to 0.0005"
-0.0002" to 0"
-0.015" to 0.015"
SF
Steel
00000000
00000
00000
00000

3/4

"
1"

3/8

"
1

3/64

"

1/4

"

3/4

"
0.0001" to 0.0005"
-0.0002" to 0"
-0.015" to 0.015"
SF
Steel
00000000
00000
00000
00000
1

3/8

"

1/2

"
__
1

51/64

"

3/8

"
1

7/64

"
0.0001" to 0.0005"
-0.0003" to 0"
-0.015" to 0.015"
SF
Steel
00000000
00000
00000
00000

5/8

"

1/2

"

25/64

"

7/8

"

1/4

"

37/64

"
0.0001" to 0.0005"
-0.0002" to 0"
-0.015" to 0.015"
SF
Steel
00000000
00000
00000
00000

5/8

"

3/4

"

25/64

"

7/8

"

1/4

"

37/64

"
0.0001" to 0.0005"
-0.0002" to 0"
-0.015" to 0.015"
SF
Steel
00000000
00000
00000
00000

5/8

"
1"

25/64

"

7/8

"

1/4

"

37/64

"
0.0001" to 0.0005"
-0.0002" to 0"
-0.015" to 0.015"
SF
Steel
00000000
00000
00000
00000

3/4

"

1/2

"

25/64

"
1

3/64

"

1/4

"

3/4

"
0.0001" to 0.0005"
-0.0002" to 0"
-0.015" to 0.015"
SF
Steel
00000000
00000
00000
00000

3/4

"

3/4

"

25/64

"
1

3/64

"

1/4

"

3/4

"
0.0001" to 0.0005"
-0.0002" to 0"
-0.015" to 0.015"
SF
Steel
00000000
00000
00000
00000

3/4

"
1"

25/64

"
1

3/64

"

1/4

"

3/4

"
0.0001" to 0.0005"
-0.0002" to 0"
-0.015" to 0.015"
SF
Steel
00000000
00000
00000
00000

5/8

"

3/8

"

13/32

"

7/8

"

1/4

"

37/64

"
0.0001" to 0.0005"
-0.0002" to 0"
-0.015" to 0.015"
SF
Steel
00000000
00000
00000
00000

5/8

"

1/2

"

13/32

"

7/8

"

1/4

"

37/64

"
0.0001" to 0.0005"
-0.0002" to 0"
-0.015" to 0.015"
SF
Steel
00000000
00000
00000
00000

5/8

"

3/4

"

13/32

"

7/8

"

1/4

"

37/64

"
0.0001" to 0.0005"
-0.0002" to 0"
-0.015" to 0.015"
SF
Steel
00000000
00000
00000
00000

5/8

"
1"

13/32

"

7/8

"

1/4

"

37/64

"
0.0001" to 0.0005"
-0.0002" to 0"
-0.015" to 0.015"
SF
Steel
00000000
00000
00000
00000

3/4

"

1/2

"

13/32

"
1

3/64

"

1/4

"

3/4

"
0.0001" to 0.0005"
-0.0002" to 0"
-0.015" to 0.015"
SF
Steel
00000000
00000
00000
00000

3/4

"

3/4

"

13/32

"
1

3/64

"

1/4

"

3/4

"
0.0001" to 0.0005"
-0.0002" to 0"
-0.015" to 0.015"
SF
Steel
00000000
00000
00000
00000

3/4

"

1/2

"

27/64

"
1

3/64

"

1/4

"

3/4

"
0.0001" to 0.0005"
-0.0002" to 0"
-0.015" to 0.015"
SF
Steel
00000000
00000
00000
00000

3/4

"

3/4

"

27/64

"
1

3/64

"

1/4

"

3/4

"
0.0001" to 0.0005"
-0.0002" to 0"
-0.015" to 0.015"
SF
Steel
00000000
00000
00000
00000

3/4

"
1"

27/64

"
1

3/64

"

1/4

"

3/4

"
0.0001" to 0.0005"
-0.0002" to 0"
-0.015" to 0.015"
SF
Steel
00000000
00000
00000
00000

5/8

"

1/2

"

7/16

"

7/8

"

1/4

"

37/64

"
0.0001" to 0.0005"
-0.0002" to 0"
-0.015" to 0.015"
SF
Steel
00000000
00000
00000
00000

5/8

"

5/8

"

7/16

"

7/8

"

1/4

"

37/64

"
0.0001" to 0.0005"
-0.0002" to 0"
-0.015" to 0.015"
SF
Steel
00000000
00000
00000
00000

5/8

"

3/4

"

7/16

"

7/8

"

1/4

"

37/64

"
0.0001" to 0.0005"
-0.0002" to 0"
-0.015" to 0.015"
SF
Steel
00000000
00000
00000
00000

5/8

"
1"

7/16

"

7/8

"

1/4

"

37/64

"
0.0001" to 0.0005"
-0.0002" to 0"
-0.015" to 0.015"
SF
Steel
00000000
00000
00000
00000

3/4

"

3/8

"

7/16

"
1

3/64

"

1/4

"

3/4

"
0.0001" to 0.0005"
-0.0002" to 0"
-0.015" to 0.015"
SF
Steel
00000000
00000
00000
00000

3/4

"

1/2

"

7/16

"
1

3/64

"

1/4

"

3/4

"
0.0001" to 0.0005"
-0.0002" to 0"
-0.015" to 0.015"
SF
Steel
00000000
00000
00000
00000

3/4

"

3/4

"

7/16

"
1

3/64

"

1/4

"

3/4

"
0.0001" to 0.0005"
-0.0002" to 0"
-0.015" to 0.015"
SF
Steel
00000000
00000
00000
00000

3/4

"
1"

7/16

"
1

3/64

"

1/4

"

3/4

"
0.0001" to 0.0005"
-0.0002" to 0"
-0.015" to 0.015"
SF
Steel
00000000
00000
00000
00000

3/4

"
1

3/8

"

7/16

"
1

3/64

"

1/4

"

3/4

"
0.0001" to 0.0005"
-0.0002" to 0"
-0.015" to 0.015"
SF
Steel
00000000
00000
00000
00000

3/4

"
1"

29/64

"
1

3/64

"

1/4

"

3/4

"
0.0001" to 0.0005"
-0.0002" to 0"
-0.015" to 0.015"
SF
Steel
00000000
00000
00000
00000

3/4

"

1/2

"

15/32

"
1

3/64

"

1/4

"

3/4

"
0.0001" to 0.0005"
-0.0002" to 0"
-0.015" to 0.015"
SF
Steel
00000000
00000
00000
00000

3/4

"

3/4

"

15/32

"
1

3/64

"

1/4

"

3/4

"
0.0001" to 0.0005"
-0.0002" to 0"
-0.015" to 0.015"
SF
Steel
00000000
00000
00000
00000

3/4

"
1"

15/32

"
1

3/64

"

1/4

"

3/4

"
0.0001" to 0.0005"
-0.0002" to 0"
-0.015" to 0.015"
SF
Steel
00000000
00000
00000
00000

3/4

"
1

3/4

"

15/32

"
1

3/64

"

1/4

"

3/4

"
0.0001" to 0.0005"
-0.0002" to 0"
-0.015" to 0.015"
SF
Steel
00000000
00000
00000
00000

3/4

"

3/8

"

1/2

"
1

3/64

"

1/4

"

3/4

"
0.0001" to 0.0005"
-0.0002" to 0"
-0.015" to 0.015"
SF
Steel
00000000
00000
00000
00000

3/4

"

1/2

"

1/2

"
1

3/64

"

1/4

"

3/4

"
0.0001" to 0.0005"
-0.0002" to 0"
-0.015" to 0.015"
SF
Steel
00000000
00000
00000
0000

3/4

"

5/8

"

1/2

"
1

3/64

"

1/4

"

3/4

"
0.0001" to 0.0005"
-0.0002" to 0"
-0.015" to 0.015"
SF
Steel
00000000
00000
00000
00000

3/4

"

3/4

"

1/2

"
1

3/64

"

1/4

"

3/4

"
0.0001" to 0.0005"
-0.0002" to 0"
-0.015" to 0.015"
SF
Steel
00000000
00000
00000
00000

3/4

"
1"

1/2

"
1

3/64

"

1/4

"

3/4

"
0.0001" to 0.0005"
-0.0002" to 0"
-0.015" to 0.015"
SF
Steel
00000000
00000
00000
00000

3/4

"
1

3/8

"

1/2

"
1

3/64

"

1/4

"

3/4

"
0.0001" to 0.0005"
-0.0002" to 0"
-0.015" to 0.015"
SF
Steel
00000000
00000
00000
00000

3/4

"
1

1/2

"

1/2

"
1

3/64

"

1/4

"

3/4

"
0.0001" to 0.0005"
-0.0002" to 0"
-0.015" to 0.015"
SF
Steel
00000000
00000
00000
00000

3/4

"
1

3/4

"

1/2

"
1

3/64

"

1/4

"

3/4

"
0.0001" to 0.0005"
-0.0002" to 0"
-0.015" to 0.015"
SF
Steel
00000000
00000
00000
00000
1"

1/2

"

1/2

"
1

27/64

"

3/8

"

59/64

"
0.0001" to 0.0005"
-0.0002" to 0"
-0.015" to 0.015"
SF
Steel
00000000
00000
00000
00000
1"

3/4

"

1/2

"
1

27/64

"

3/8

"

59/64

"
0.0001" to 0.0005"
-0.0002" to 0"
-0.015" to 0.015"
SF
Steel
00000000
00000
00000
00000
1"
1"

1/2

"
1

27/64

"

3/8

"

59/64

"
0.0001" to 0.0005"
-0.0002" to 0"
-0.015" to 0.015"
SF
Steel
00000000
00000
00000
00000
1"
1

3/8

"

1/2

"
1

27/64

"

3/8

"

59/64

"
0.0001" to 0.0005"
-0.0002" to 0"
-0.015" to 0.015"
SF
Steel
00000000
00000
00000
00000
1"
1

1/2

"

1/2

"
1

27/64

"

3/8

"

59/64

"
0.0001" to 0.0005"
-0.0002" to 0"
-0.015" to 0.015"
SF
Steel
00000000
00000
00000
00000

3/4

"
1"

33/64

"
1

3/64

"

1/4

"

3/4

"
0.0001" to 0.0005"
-0.0002" to 0"
-0.015" to 0.015"
SF
Steel
00000000
00000
00000
00000

3/4

"

1/2

"

17/32

"
1

3/64

"

1/4

"

3/4

"
0.0001" to 0.0005"
-0.0002" to 0"
-0.015" to 0.015"
SF
Steel
00000000
00000
00000
00000

3/4

"

3/4

"

17/32

"
1

3/64

"

1/4

"

3/4

"
0.0001" to 0.0005"
-0.0002" to 0"
-0.015" to 0.015"
SF
Steel
00000000
00000
00000
00000
1"

3/4

"

17/32

"
1

27/64

"

3/8

"

59/64

"
0.0001" to 0.0005"
-0.0002" to 0"
-0.015" to 0.015"
SF
Steel
00000000
00000
00000
00000

3/4

"

3/4

"

9/16

"
1

3/64

"

1/4

"

3/4

"
0.0001" to 0.0005"
-0.0002" to 0"
-0.015" to 0.015"
SF
Steel
00000000
00000
00000
00000

3/4

"
1"

9/16

"
1

3/64

"

1/4

"

3/4

"
0.0001" to 0.0005"
-0.0002" to 0"
-0.015" to 0.015"
SF
Steel
00000000
00000
00000
00000
1"

3/4

"

9/16

"
1

27/64

"

3/8

"

59/64

"
0.0001" to 0.0005"
-0.0002" to 0"
-0.015" to 0.015"
SF
Steel
00000000
00000
00000
00000
1"
1"

39/64

"
1

27/64

"

3/8

"

59/64

"
0.0001" to 0.0005"
-0.0002" to 0"
-0.015" to 0.015"
SF
Steel
00000000
00000
00000
00000

7/8

"

1/2

"

5/8

"
1

1/4

"

3/8

"

53/64

"
0.0001" to 0.0005"
-0.0002" to 0"
-0.015" to 0.015"
SF
Steel
00000000
00000
00000
00000

7/8

"

3/4

"

5/8

"
1

1/4

"

3/8

"

53/64

"
0.0001" to 0.0005"
-0.0002" to 0"
-0.015" to 0.015"
SF
Steel
00000000
00000
00000
00000

7/8

"
1"

5/8

"
1

1/4

"

3/8

"

53/64

"
0.0001" to 0.0005"
-0.0002" to 0"
-0.015" to 0.015"
SF
Steel
00000000
00000
00000
00000
1"

1/2

"

5/8

"
1

27/64

"

3/8

"

59/64

"
0.0001" to 0.0005"
-0.0002" to 0"
-0.015" to 0.015"
SF
Steel
00000000
00000
00000
00000
1"

3/4

"

5/8

"
1

27/64

"

3/8

"

59/64

"
0.0001" to 0.0005"
-0.0002" to 0"
-0.015" to 0.015"
SF
Steel
00000000
00000
00000
00000
1"
1"

5/8

"
1

27/64

"

3/8

"

59/64

"
0.0001" to 0.0005"
-0.0002" to 0"
-0.015" to 0.015"
SF
Steel
00000000
00000
00000
00000
1"
1

3/8

"

5/8

"
1

27/64

"

3/8

"

59/64

"
0.0001" to 0.0005"
-0.0002" to 0"
-0.015" to 0.015"
SF
Steel
00000000
00000
00000
00000
1"
1

1/2

"

5/8

"
1

27/64

"

3/8

"

59/64

"
0.0001" to 0.0005"
-0.0002" to 0"
-0.015" to 0.015"
SF
Steel
00000000
00000
00000
00000
1"

3/4

"

21/32

"
1

27/64

"

3/8

"

59/64

"
0.0001" to 0.0005"
-0.0002" to 0"
-0.015" to 0.015"
SF
Steel
00000000
00000
00000
00000
1"
1"

21/32

"
1

27/64

"

3/8

"

59/64

"
0.0001" to 0.0005"
-0.0002" to 0"
-0.015" to 0.015"
SF
Steel
00000000
00000
00000
00000
1"

1/2

"

11/16

"
1

27/64

"

3/8

"

59/64

"
0.0001" to 0.0005"
-0.0002" to 0"
-0.015" to 0.015"
SF
Steel
00000000
00000
00000
00000
1"

3/4

"

11/16

"
1

27/64

"

3/8

"

59/64

"
0.0001" to 0.0005"
-0.0002" to 0"
-0.015" to 0.015"
SF
Steel
00000000
00000
00000
00000
1"
1"

11/16

"
1

27/64

"

3/8

"

59/64

"
0.0001" to 0.0005"
-0.0002" to 0"
-0.015" to 0.015"
SF
Steel
00000000
00000
00000
00000
1"

1/2

"

3/4

"
1

27/64

"

3/8

"

59/64

"
0.0001" to 0.0005"
-0.0002" to 0"
-0.015" to 0.015"
SF
Steel
00000000
00000
00000
00000
1"

3/4

"

3/4

"
1

27/64

"

3/8

"

59/64

"
0.0001" to 0.0005"
-0.0002" to 0"
-0.015" to 0.015"
SF
Steel
00000000
00000
00000
00000
1"
1"

3/4

"
1

27/64

"

3/8

"

59/64

"
0.0001" to 0.0005"
-0.0002" to 0"
-0.015" to 0.015"
SF
Steel
00000000
00000
00000
00000
1"
1

1/4

"

3/4

"
1

27/64

"

3/8

"

59/64

"
0.0001" to 0.0005"
-0.0002" to 0"
-0.015" to 0.015"
SF
Steel
00000000
00000
00000
00000
1"
1

3/8

"

3/4

"
1

27/64

"

3/8

"

59/64

"
0.0001" to 0.0005"
-0.0002" to 0"
-0.015" to 0.015"
SF
Steel
00000000
00000
00000
00000
1"
1

1/2

"

3/4

"
1

27/64

"

3/8

"

59/64

"
0.0001" to 0.0005"
-0.0002" to 0"
-0.015" to 0.015"
SF
Steel
00000000
00000
00000
00000
1

3/8

"

3/4

"

3/4

"
1

51/64

"

3/8

"
1

7/64

"
0.0001" to 0.0005"
-0.0003" to 0"
-0.015" to 0.015"
SF
Steel
00000000
00000
00000
00000
1

3/8

"
1"

3/4

"
1

51/64

"

3/8

"
1

7/64

"
0.0001" to 0.0005"
-0.0003" to 0"
-0.015" to 0.015"
SF
Steel
00000000
00000
00000
00000
1

3/8

"
1

3/8

"

3/4

"
1

51/64

"

3/8

"
1

7/64

"
0.0001" to 0.0005"
-0.0003" to 0"
-0.015" to 0.015"
SF
Steel
00000000
00000
00000
00000
1

3/8

"
1

1/2

"

3/4

"
1

51/64

"

3/8

"
1

7/64

"
0.0001" to 0.0005"
-0.0003" to 0"
-0.015" to 0.015"
SF
Steel
00000000
00000
00000
00000
1"

3/4

"

25/32

"
1

27/64

"

3/8

"

59/64

"
0.0002" to 0.0006"
-0.0002" to 0"
-0.015" to 0.015"
SF
Steel
00000000
00000
00000
00000
1"

3/4

"

13/16

"
1

27/64

"

3/8

"

59/64

"
0.0002" to 0.0006"
-0.0002" to 0"
-0.015" to 0.015"
SF
Steel
00000000
00000
00000
00000
1

3/8

"
1"

13/16

"
1

51/64

"

3/8

"
1

7/64

"
0.0002" to 0.0006"
-0.0003" to 0"
-0.015" to 0.015"
SF
Steel
00000000
00000
00000
00000
1

3/8

"

3/4

"

7/8

"
1

51/64

"

3/8

"
1

7/64

"
0.0002" to 0.0006"
-0.0003" to 0"
-0.015" to 0.015"
SF
Steel
00000000
00000
00000
00000
1

3/8

"
1"

7/8

"
1

51/64

"

3/8

"
1

7/64

"
0.0002" to 0.0006"
-0.0003" to 0"
-0.015" to 0.015"
SF
Steel
00000000
00000
00000
00000
1

3/8

"
1"

15/16

"
1

51/64

"

3/8

"
1

7/64

"
0.0002" to 0.0006"
-0.0003" to 0"
-0.015" to 0.015"
SF
Steel
00000000
00000
00000
00000
1

3/8

"

1/2

"
1"
1

51/64

"

3/8

"
1

7/64

"
0.0002" to 0.0006"
-0.0003" to 0"
-0.015" to 0.015"
SF
Steel
00000000
00000
00000
00000
1

3/8

"

3/4

"
1"
1

51/64

"

3/8

"
1

7/64

"
0.0002" to 0.0006"
-0.0003" to 0"
-0.015" to 0.015"
SF
Steel
00000000
00000
00000
00000
1

3/8

"
1"
1"
1

51/64

"

3/8

"
1

7/64

"
0.0002" to 0.0006"
-0.0003" to 0"
-0.015" to 0.015"
SF
Steel
00000000
00000
00000
00000
1

3/8

"
1

3/8

"
1"
1

51/64

"

3/8

"
1

7/64

"
0.0002" to 0.0006"
-0.0003" to 0"
-0.015" to 0.015"
SF
Steel
00000000
00000
00000
00000
1

3/8

"
1

1/2

"
1"
1

51/64

"

3/8

"
1

7/64

"
0.0002" to 0.0006"
-0.0003" to 0"
-0.015" to 0.015"
SF
Steel
00000000
00000
00000
00000
1

3/4

"

3/4

"
1"
2

19/64

"

3/8

"
1

25/64

"
0.0002" to 0.0006"
-0.0003" to 0"
-0.015" to 0.015"
SF
Steel
00000000
00000
00000
00000
1

3/4

"
1"
1"
2

19/64

"

3/8

"
1

25/64

"
0.0002" to 0.0006"
-0.0003" to 0"
-0.015" to 0.015"
SF
Steel
00000000
00000
00000
00000
1

3/4

"
1

3/8

"
1"
2

19/64

"

3/8

"
1

25/64

"
0.0002" to 0.0006"
-0.0003" to 0"
-0.015" to 0.015"
SF
Steel
00000000
00000
00000
00000
1

3/4

"
1

1/2

"
1"
2

19/64

"

3/8

"
1

25/64

"
0.0002" to 0.0006"
-0.0003" to 0"
-0.015" to 0.015"
SF
Steel
00000000
00000
00000
00000
1

3/4

"

3/4

"
1

3/64

"
2

19/64

"

3/8

"
1

25/64

"
0.0002" to 0.0006"
-0.0003" to 0"
-0.015" to 0.015"
SF
Steel
00000000
00000
00000
00000
1

3/4

"
1"
1

3/64

"
2

19/64

"

3/8

"
1

25/64

"
0.0002" to 0.0006"
-0.0003" to 0"
-0.015" to 0.015"
SF
Steel
00000000
00000
00000
00000
1

3/4

"
1

3/8

"
1

3/64

"
2

19/64

"

3/8

"
1

25/64

"
0.0002" to 0.0006"
-0.0003" to 0"
-0.015" to 0.015"
SF
Steel
00000000
00000
00000
00000
1

3/4

"
1

1/2

"
1

3/64

"
2

19/64

"

3/8

"
1

25/64

"
0.0002" to 0.0006"
-0.0003" to 0"
-0.015" to 0.015"
SF
Steel
00000000
00000
00000
00000
1

3/4

"
1

3/4

"
1

3/64

"
2

19/64

"

3/8

"
1

25/64

"
0.0002" to 0.0006"
-0.0003" to 0"
-0.015" to 0.015"
SF
Steel
00000000
00000
00000
00000
1

3/4

"
2

1/8

"
1

3/64

"
2

19/64

"

3/8

"
1

25/64

"
0.0002" to 0.0006"
-0.0003" to 0"
-0.015" to 0.015"
SF
Steel
00000000
00000
00000
00000
1

3/4

"
2

1/2

"
1

3/64

"
2

19/64

"

3/8

"
1

25/64

"
0.0002" to 0.0006"
-0.0003" to 0"
-0.015" to 0.015"
SF
Steel
00000000
00000
00000
00000
1

3/4

"

3/4

"
1

1/16

"
2

19/64

"

3/8

"
1

25/64

"
0.0002" to 0.0006"
-0.0003" to 0"
-0.015" to 0.015"
SF
Steel
00000000
00000
00000
00000
1

3/4

"
1"
1

1/16

"
2

19/64

"

3/8

"
1

25/64

"
0.0002" to 0.0006"
-0.0003" to 0"
-0.015" to 0.015"
SF
Steel
00000000
00000
00000
00000
1

3/4

"
1

3/8

"
1

1/16

"
2

19/64

"

3/8

"
1

25/64

"
0.0002" to 0.0006"
-0.0003" to 0"
-0.015" to 0.015"
SF
Steel
00000000
00000
00000
00000
1

3/4

"
1

1/2

"
1

1/16

"
2

19/64

"

3/8

"
1

25/64

"
0.0002" to 0.0006"
-0.0003" to 0"
-0.015" to 0.015"
SF
Steel
00000000
00000
00000
00000
1

3/4

"
1

3/4

"
1

1/16

"
2

19/64

"

3/8

"
1

25/64

"
0.0002" to 0.0006"
-0.0003" to 0"
-0.015" to 0.015"
SF
Steel
00000000
00000
00000
00000
1

3/4

"
2

1/8

"
1

1/16

"
2

19/64

"

3/8

"
1

25/64

"
0.0002" to 0.0006"
-0.0003" to 0"
-0.015" to 0.015"
SF
Steel
00000000
00000
00000
00000
1

3/4

"
2

1/2

"
1

1/16

"
2

19/64

"

3/8

"
1

25/64

"
0.0002" to 0.0006"
-0.0003" to 0"
-0.015" to 0.015"
SF
Steel
00000000
00000
00000
00000
1

3/4

"

3/4

"
1

1/8

"
2

19/64

"

3/8

"
1

25/64

"
0.0002" to 0.0006"
-0.0003" to 0"
-0.015" to 0.015"
SF
Steel
00000000
00000
00000
00000
1

3/4

"
1"
1

1/8

"
2

19/64

"

3/8

"
1

25/64

"
0.0002" to 0.0006"
-0.0003" to 0"
-0.015" to 0.015"
SF
Steel
00000000
00000
00000
00000
1

3/4

"
1

3/8

"
1

1/8

"
2

19/64

"

3/8

"
1

25/64

"
0.0002" to 0.0006"
-0.0003" to 0"
-0.015" to 0.015"
SF
Steel
00000000
00000
00000
00000
1

3/4

"
1

1/2

"
1

1/8

"
2

19/64

"

3/8

"
1

25/64

"
0.0002" to 0.0006"
-0.0003" to 0"
-0.015" to 0.015"
SF
Steel
00000000
00000
00000
00000
1

3/4

"
1

3/4

"
1

1/8

"
2

19/64

"

3/8

"
1

25/64

"
0.0002" to 0.0006"
-0.0003" to 0"
-0.015" to 0.015"
SF
Steel
00000000
00000
00000
00000
1

3/4

"
2

1/8

"
1

1/8

"
2

19/64

"

3/8

"
1

25/64

"
0.0002" to 0.0006"
-0.0003" to 0"
-0.015" to 0.015"
SF
Steel
00000000
00000
00000
00000
1

3/4

"
2

1/2

"
1

1/8

"
2

19/64

"

3/8

"
1

25/64

"
0.0002" to 0.0006"
-0.0003" to 0"
-0.015" to 0.015"
SF
Steel
00000000
00000
00000
00000
1

3/4

"

3/4

"
1

1/4

"
2

19/64

"

3/8

"
1

25/64

"
0.0002" to 0.0006"
-0.0003" to 0"
-0.015" to 0.015"
SF
Steel
00000000
00000
00000
00000
1

3/4

"
1"
1

1/4

"
2

19/64

"

3/8

"
1

25/64

"
0.0002" to 0.0006"
-0.0003" to 0"
-0.015" to 0.015"
SF
Steel
00000000
00000
00000
00000
1

3/4

"
1

3/8

"
1

1/4

"
2

19/64

"

3/8

"
1

25/64

"
0.0002" to 0.0006"
-0.0003" to 0"
-0.015" to 0.015"
SF
Steel
00000000
00000
00000
00000
1

3/4

"
1

1/2

"
1

1/4

"
2

19/64

"

3/8

"
1

25/64

"
0.0002" to 0.0006"
-0.0003" to 0"
-0.015" to 0.015"
SF
Steel
00000000
00000
00000
00000
1

3/4

"
1

3/4

"
1

1/4

"
2

19/64

"

3/8

"
1

25/64

"
0.0002" to 0.0006"
-0.0003" to 0"
-0.015" to 0.015"
SF
Steel
00000000
00000
00000
00000
1

3/4

"
2

1/8

"
1

1/4

"
2

19/64

"

3/8

"
1

25/64

"
0.0002" to 0.0006"
-0.0003" to 0"
-0.015" to 0.015"
SF
Steel
00000000
00000
00000
00000
1

3/4

"
2

1/2

"
1

1/4

"
2

19/64

"

3/8

"
1

25/64

"
0.0002" to 0.0006"
-0.0003" to 0"
-0.015" to 0.015"
SF
Steel
00000000
00000
00000
00000
1

3/4

"

3/4

"
1

5/16

"
2

19/64

"

3/8

"
1

25/64

"
0.0002" to 0.0006"
-0.0003" to 0"
-0.015" to 0.015"
SF
Steel
00000000
00000
00000
00000
1

3/4

"
1"
1

5/16

"
2

19/64

"

3/8

"
1

25/64

"
0.0002" to 0.0006"
-0.0003" to 0"
-0.015" to 0.015"
SF
Steel
00000000
00000
00000
00000
1

3/4

"
1

3/8

"
1

5/16

"
2

19/64

"

3/8

"
1

25/64

"
0.0002" to 0.0006"
-0.0003" to 0"
-0.015" to 0.015"
SF
Steel
00000000
00000
00000
00000
1

3/4

"
1

1/2

"
1

5/16

"
2

19/64

"

3/8

"
1

25/64

"
0.0002" to 0.0006"
-0.0003" to 0"
-0.015" to 0.015"
SF
Steel
00000000
00000
00000
00000
1

3/4

"
1

3/4

"
1

5/16

"
2

19/64

"

3/8

"
1

25/64

"
0.0002" to 0.0006"
-0.0003" to 0"
-0.015" to 0.015"
SF
Steel
00000000
00000
00000
00000
1

3/4

"
2

1/8

"
1

5/16

"
2

19/64

"

3/8

"
1

25/64

"
0.0002" to 0.0006"
-0.0003" to 0"
-0.015" to 0.015"
SF
Steel
00000000
00000
00000
00000
1

3/4

"
2

1/2

"
1

5/16

"
2

19/64

"

3/8

"
1

25/64

"
0.0002" to 0.0006"
-0.0003" to 0"
-0.015" to 0.015"
SF
Steel
00000000
00000
00000
00000
1

3/4

"

3/4

"
1

3/8

"
2

19/64

"

3/8

"
1

25/64

"
0.0002" to 0.0006"
-0.0003" to 0"
-0.015" to 0.015"
SF
Steel
00000000
00000
00000
00000
1

3/4

"
1"
1

3/8

"
2

19/64

"

3/8

"
1

25/64

"
0.0002" to 0.0006"
-0.0003" to 0"
-0.015" to 0.015"
SF
Steel
00000000
00000
00000
00000
1

3/4

"
1

3/8

"
1

3/8

"
2

19/64

"

3/8

"
1

25/64

"
0.0002" to 0.0006"
-0.0003" to 0"
-0.015" to 0.015"
SF
Steel
00000000
00000
00000
00000
1

3/4

"
1

1/2

"
1

3/8

"
2

19/64

"

3/8

"
1

25/64

"
0.0002" to 0.0006"
-0.0003" to 0"
-0.015" to 0.015"
SF
Steel
00000000
00000
00000
00000
1

3/4

"
1

3/4

"
1

3/8

"
2

19/64

"

3/8

"
1

25/64

"
0.0002" to 0.0006"
-0.0003" to 0"
-0.015" to 0.015"
SF
Steel
00000000
00000
00000
00000
1

3/4

"
2

1/8

"
1

3/8

"
2

19/64

"

3/8

"
1

25/64

"
0.0002" to 0.0006"
-0.0003" to 0"
-0.015" to 0.015"
SF
Steel
00000000
00000
00000
00000
1

3/4

"
2

1/2

"
1

3/8

"
2

19/64

"

3/8

"
1

25/64

"
0.0002" to 0.0006"
-0.0003" to 0"
-0.015" to 0.015"
SF
Steel
00000000
00000
00000
00000
2

1/4

"

3/4

"
1

7/8

"
2

51/64

"

3/8

"
1

41/64

"
0.0003" to 0.0007"
-0.0004" to 0"
-0.015" to 0.015"
SF
Steel
00000000
00000
00000
00000
2

1/4

"
1"
1

7/8

"
2

51/64

"

3/8

"
1

41/64

"
0.0003" to 0.0007"
-0.0004" to 0"
-0.015" to 0.015"
SF
Steel
00000000
00000
00000
00000
2

1/4

"
1

3/8

"
1

7/8

"
2

51/64

"

3/8

"
1

41/64

"
0.0003" to 0.0007"
-0.0004" to 0"
-0.015" to 0.015"
SF
Steel
00000000
00000
00000
00000
2

1/4

"
1

1/2

"
1

7/8

"
2

51/64

"

3/8

"
1

41/64

"
0.0003" to 0.0007"
-0.0004" to 0"
-0.015" to 0.015"
SF
Steel
00000000
00000
00000
00000
2

1/4

"
1

3/4

"
1

7/8

"
2

51/64

"

3/8

"
1

41/64

"
0.0003" to 0.0007"
-0.0004" to 0"
-0.015" to 0.015"
SF
Steel
00000000
00000
00000
00000
2

1/4

"
2

1/8

"
1

7/8

"
2

51/64

"

3/8

"
1

41/64

"
0.0003" to 0.0007"
-0.0004" to 0"
-0.015" to 0.015"
SF
Steel
00000000
00000
00000
00000
2

1/4

"
2

1/2

"
1

7/8

"
2

51/64

"

3/8

"
1

41/64

"
0.0003" to 0.0007"
-0.0004" to 0"
-0.015" to 0.015"
SF
Steel
00000000
00000
00000
00000
2

1/4

"
3"
1

7/8

"
2

51/64

"

3/8

"
1

41/64

"
0.0003" to 0.0007"
-0.0004" to 0"
-0.015" to 0.015"
SF
Steel
00000000
00000
00000
00000

Slotted

Hex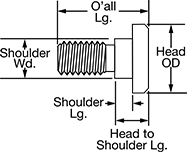 For
Bushing
OD
Thread
Size

Head
OD

O'all




Lg.

Head-to-Shoulder




Lg.

Lg.

Wd.

Hex
Size
For Drill
Bushing
Type
Material

Pkg.




Qty.

Pkg.

Slotted

3/16

"
8-32

5/16

"

7/16

"

3/16

"
0.1"

3/16

"
__
SF
Steel
10
0000000
000000

1/4

",

3/8

",

7/16

",

9/16

",

5/8

"
10-32

3/8

"

1/2

"

1/4

"
0.138"

1/4

"
__
SF
Steel
10
0000000
00000

5/16

",

1/2

",

3/4

"

5/16

"-18

5/8

"

5/8

"

1/4

"
0.138"

3/8

"
__
SF
Steel
10
0000000
00000

7/8

", 1

1/8

", 1

1/4

", 1

1/2

"

5/16

"-18

5/8

"

3/4

"

3/8

"
0.2"

3/8

"
__
SF
Steel
10
0000000
00000
1", 1

3/8

"

5/16

"-18

5/8

"

7/8

"

3/8

"
0.2"

3/8

"
__
SF
Steel
10
0000000
00000
1

3/4

", 2

1/4

"

3/8

"-16

3/4

"
1"

3/8

"
0.2"

7/16

"
__
SF
Steel
10
0000000
00000

Hex

3/16

"
8-32

5/16

"

7/16

"

3/16

"
0.1"

3/16

"

3/32

"
SF
Steel
10
0000000
00000

1/4

",

3/8

",

7/16

",

9/16

",

5/8

"
10-32

3/8

"

1/2

"

1/4

"
0.138"

1/4

"

1/8

"
SF
Steel
10
0000000
00000

5/16

",

1/2

",

3/4

"

5/16

"-18

5/8

"

5/8

"

1/4

"
0.138"

3/8

"

3/16

"
SF
Steel
10
0000000
00000

7/8

", 1

1/8

", 1

1/4

", 1

1/2

"

5/16

"-18

5/8

"

3/4

"

3/8

"
0.2"

3/8

"

3/16

"
SF
Steel
10
0000000
00000
1", 1

3/8

"

5/16

"-18

5/8

"

7/8

"

3/8

"
0.2"

3/8

"

3/16

"
SF
Steel
10
0000000
00000
1

3/4

", 2

1/4

"

3/8

"-16

3/4

"
1"

3/8

"
0.2"

7/16

"

7/32

"
SF
Steel
10
0000000
00000

For
Bushing
OD
ID
OD

Lg.

ID
Tolerance
For Drill
Bushing
Type
Material
Hardness
Sleeve
ANSI
Number
Each

3/16

"

3/16

"

5/16

"

3/8

"
0.0001" to 0.0004"
SF
Steel
Rockwell C61
L-20-6
00000000
00000

3/16

"

3/16

"

5/16

"

1/2

"
0.0001" to 0.0004"
SF
Steel
Rockwell C61
L-20-8
00000000
0000

1/4

"

1/4

"

7/16

"

1/4

"
0.0001" to 0.0004"
SF
Steel
Rockwell C61
L-28-4
00000000
0000

1/4

"

1/4

"

7/16

"

3/8

"
0.0001" to 0.0004"
SF
Steel
Rockwell C61
L-28-6
00000000
0000

1/4

"

1/4

"

7/16

"

1/2

"
0.0001" to 0.0004"
SF
Steel
Rockwell C61
L-28-8
00000000
0000

1/4

"

1/4

"

7/16

"

3/4

"
0.0001" to 0.0004"
SF
Steel
Rockwell C61
L-28-12
00000000
0000

5/16

"

5/16

"

1/2

"

3/8

"
0.0001" to 0.0004"
SF
Steel
Rockwell C61
L-32-6
00000000
0000

5/16

"

5/16

"

1/2

"

1/2

"
0.0001" to 0.0004"
SF
Steel
Rockwell C61
L-32-8
00000000
0000

5/16

"

5/16

"

1/2

"

3/4

"
0.0001" to 0.0004"
SF
Steel
Rockwell C61
L-32-12
00000000
0000

5/16

"

5/16

"

1/2

"
1"
0.0001" to 0.0004"
SF
Steel
Rockwell C61
L-32-16
00000000
00000

5/16

"

5/16

"

9/16

"

3/8

"
0.0001" to 0.0004"
SF
Steel
Rockwell C61
L-36-6
00000000
0000

5/16

"

5/16

"

9/16

"

3/4

"
0.0001" to 0.0004"
SF
Steel
Rockwell C61
L-36-12
00000000
0000

3/8

"

3/8

"

5/8

"

1/2

"
0.0001" to 0.0004"
SF
Steel
Rockwell C61
L-40-8
00000000
0000

3/8

"

3/8

"

5/8

"

5/8

"
0.0001" to 0.0004"
SF
Steel
Rockwell C61
L-40-10
00000000
0000

3/8

"

3/8

"

5/8

"

3/4

"
0.0001" to 0.0004"
SF
Steel
Rockwell C61
L-40-12
00000000
0000

7/16

"

7/16

"

5/8

"

1/2

"
0.0002" to 0.0005"
SF
Steel
Rockwell C61
L-40-8
00000000
0000

7/16

"

7/16

"

5/8

"

5/8

"
0.0002" to 0.0005"
SF
Steel
Rockwell C61
L-40-10
00000000
0000

7/16

"

7/16

"

5/8

"

3/4

"
0.0002" to 0.0005"
SF
Steel
Rockwell C61
L-40-12
00000000
0000

1/2

"

1/2

"

3/4

"

5/16

"
0.0002" to 0.0005"
SF
Steel
Rockwell C61
L-48-5
00000000
0000

1/2

"

1/2

"

3/4

"

3/8

"
0.0002" to 0.0005"
SF
Steel
Rockwell C61
L-48-6
00000000
0000

1/2

"

1/2

"

3/4

"

1/2

"
0.0002" to 0.0005"
SF
Steel
Rockwell C61
L-48-8
00000000
0000

1/2

"

1/2

"

3/4

"

3/4

"
0.0002" to 0.0005"
SF
Steel
Rockwell C61
L-48-12
00000000
0000

1/2

"

1/2

"

3/4

"
1"
0.0002" to 0.0005"
SF
Steel
Rockwell C61
L-48-16
00000000
0000

1/2

"

1/2

"

3/4

"
1

3/8

"
0.0002" to 0.0005"
SF
Steel
Rockwell C61
L-48-22
00000000
00000

5/8

"

5/8

"

7/8

"

1/2

"
0.0002" to 0.0005"
SF
Steel
Rockwell C61
L-56-8
00000000
0000

5/8

"

5/8

"

7/8

"

5/8

"
0.0002" to 0.0005"
SF
Steel
Rockwell C61
L-56-10
00000000
00000

5/8

"

5/8

"

7/8

"

3/4

"
0.0002" to 0.0005"
SF
Steel
Rockwell C61
L-56-12
00000000
00000

5/8

"

5/8

"

7/8

"
1"
0.0002" to 0.0005"
SF
Steel
Rockwell C61
L-56-16
00000000
00000

3/4

"

3/4

"
1"

3/8

"
0.0003" to 0.0006"
SF
Steel
Rockwell C61
L-64-6
00000000
00000

3/4

"

3/4

"
1"

1/2

"
0.0003" to 0.0006"
SF
Steel
Rockwell C61
L-64-8
00000000
00000

3/4

"

3/4

"
1"

3/4

"
0.0003" to 0.0006"
SF
Steel
Rockwell C61
L-64-12
00000000
00000

3/4

"

3/4

"
1"
1"
0.0003" to 0.0006"
SF
Steel
Rockwell C61
L-64-16
00000000
00000

3/4

"

3/4

"
1"
1

3/8

"
0.0003" to 0.0006"
SF
Steel
Rockwell C61
L-64-22
00000000
00000

3/4

"

3/4

"
1"
1

3/4

"
0.0003" to 0.0006"
SF
Steel
Rockwell C61
L-64-28
00000000
00000

7/8

"

7/8

"
1

1/4

"

3/4

"
0.0004" to 0.0007"
SF
Steel
Rockwell C61
L-80-12
00000000
00000
1"
1"
1

3/8

"

1/2

"
0.0004" to 0.0007"
SF
Steel
Rockwell C61
L-88-8
00000000
00000
1"
1"
1

3/8

"

3/4

"
0.0004" to 0.0007"
SF
Steel
Rockwell C61
L-88-12
00000000
00000
1"
1"
1

3/8

"
1"
0.0004" to 0.0007"
SF
Steel
Rockwell C61
L-88-16
00000000
00000
1"
1"
1

3/8

"
1

3/8

"
0.0004" to 0.0007"
SF
Steel
Rockwell C61
L-88-22
00000000
00000
1"
1"
1

3/8

"
1

1/2

"
0.0004" to 0.0007"
SF
Steel
Rockwell C61
L-88-24
00000000
00000
1

3/8

"
1

3/8

"
1

3/4

"

3/4

"
0.0006" to 0.001"
SF
Steel
Rockwell C61
L-112-12
00000000
00000
1

3/8

"
1

3/8

"
1

3/4

"
1"
0.0006" to 0.001"
SF
Steel
Rockwell C61
L-112-16
00000000
00000
1

3/8

"
1

3/8

"
1

3/4

"
1

3/8

"
0.0006" to 0.001"
SF
Steel
Rockwell C61
L-112-22
00000000
00000


For
Bushing
OD
ID
OD

Lg.

Head


Dia.

Flange
Distance
ID
Tolerance
For Drill
Bushing
Type
Material
Hardness
Each

3/16

"

3/16

"

5/16

"

11/16

"

23/64

"

1/4

"
0.0001" to 0.0004"
SF
Steel
Rockwell C61
00000000
000000

5/16

"

5/16

"

1/2

"

23/32

"

9/16

"

3/8

"
0.0001" to 0.0004"
SF
Steel
Rockwell C61
00000000
00000

1/2

"

1/2

"

3/4

"

47/64

"

13/16

"

1/2

"
0.0002" to 0.0005"
SF
Steel
Rockwell C61
00000000
00000