About Ball and Roller Bearings
High-Speed

Mounted Ball Bearings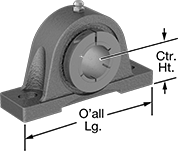 Without Torque Indicator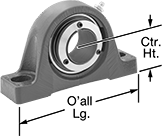 With Torque Indicator
These bearings have the highest speed ratings of any mounted ball bearing that we offer. The clamp-on collar creates a 360° grip around the shaft for a strong, mar-free hold. Bearings are self-aligning to compensate for shaft misalignment.
Bearings with torque indicator tell you when the shaft is centered, ensuring smooth rotation in applications with high vibration.
Sealed bearings block out dust and other contaminants better than shielded bearings.
Shielded bearings dissipate heat more efficiently than sealed bearings.
For technical drawings and 3-D models, click on a part number.
For
Shaft


Dia.

Center


Ht.

Ht.

Lg.

Wd.

Hole


Lg.

Hole


Wd.

Hole


Ctr.-to-Ctr.

Dynamic
Static

Max.




Speed,


rpm

Temp.




Range,




°F

Alignment
Style
Lubrication
Each

Sealed Steel Bearings with Cast Iron

Housing—

Shaft Mount

Type:

Clamp On

Without Torque Indicator

3/4

"
1

5/16

"
2

9/16

"
5"
1

1/2

"

3/4

"

7/16

"
3

3/4

"
2,600
1,400
10,200
-20° to 200°
Self Aligning
Lubricated
0000000
0000000

7/8

"
1

7/16

"
2

13/16

"
5

1/2

"
1

1/2

"

5/8

"

7/16

"
4

1/8

"
2,800
1,650
9,000
-20° to 200°
Self Aligning
Lubricated
0000000
000000
1"
1

7/16

"
2

13/16

"
5

1/2

"
1

1/2

"

5/8

"

7/16

"
4

1/8

"
2,800
1,650
9,000
-20° to 200°
Self Aligning
Lubricated
0000000
000000
1

1/8

"
1

11/16

"
3

3/8

"
6

1/2

"
1

7/8

"

13/16

"

9/16

"
4

3/4

"
4,350
2,550
7,600
-20° to 200°
Self Aligning
Lubricated
0000000
000000
1

3/16

"
1

11/16

"
3

3/8

"
6

1/2

"
1

7/8

"

13/16

"

9/16

"
4

3/4

"
4,350
2,550
7,600
-20° to 200°
Self Aligning
Lubricated
0000000
000000
1

1/4

"
1

11/16

"
3

3/8

"
6

1/2

"
1

7/8

"

13/16

"

9/16

"
4

3/4

"
4,350
2,550
7,600
-20° to 200°
Self Aligning
Lubricated
0000000
000000
1

3/8

"
1

7/8

"
3

3/4

"
6

9/16

"
1

7/8

"

13/16

"

9/16

"
5"
5,750
3,450
6,500
-20° to 200°
Self Aligning
Lubricated
0000000
000000
1

7/16

"
1

7/8

"
3

3/4

"
6

9/16

"
1

7/8

"

13/16

"

9/16

"
5"
5,750
3,450
6,500
-20° to 200°
Self Aligning
Lubricated
0000000
000000
1

1/2

"
1

15/16

"
3

15/16

"
7

1/4

"
2

1/8

"
1"

9/16

"
5

3/8

"
7,300
4,450
5,850
-20° to 200°
Self Aligning
Lubricated
0000000
000000
1

3/4

"
2

1/8

"
4

1/4

"
7

1/2

"
2

1/8

"

13/16

"

9/16

"
5

3/4

"
7,900
5,100
5,300
-20° to 200°
Self Aligning
Lubricated
0000000
000000
2"
2

1/2

"
5"
8

5/8

"
2

3/8

"

7/8

"

11/16

"
6

3/4

"
9,750
6,600
5,000
-20° to 200°
Self Aligning
Lubricated
0000000
000000
2

7/16

"
2

3/4

"
5

9/16

"
9

1/2

"
2

3/4

"
1"

11/16

"
7

1/4

"
11,700
8,150
4,100
-20° to 200°
Self Aligning
Lubricated
0000000
000000

Shielded Steel Bearings with Cast Iron

Housing—

Shaft Mount

Type:

Clamp On

With Torque Indicator

1

7/16

"
1

7/8

"
3

11/16

"
6

9/16

"
1

55/64

"

13/16

"

21/32

"
5"
5,700
3,400
5,300
-20° to 210°
Self Aligning
Lubricated
0000000
000000
1

15/16

"
2

1/4

"
4

9/16

"
8

1/8

"
2

3/16

"

7/8

"

25/32

"
6

1/4

"
7,900
5,200
4,000
-20° to 210°
Self Aligning
Lubricated
0000000
000000