About Carbon
Steel,

Alloy

Steel,

Spring

Steel,

and Cast Iron
Easy-to-Weld

4130 Alloy Steel Round Tubes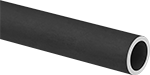 Yield

Strength:

See table

Hardness:

See table
Heat

Treatable:

Yes

Max.

Hardness After Heat

Treatment:

See table
Specifications

Met:

See table
4130 alloy steel has a low carbon content that provides good weldability. It's often used for gears, fasteners, and structural applications. These tubes meet military specifications and SAE dimensional standards.
For technical drawings and 3-D models, click on a part number.

Certificates with a traceable lot number are available for these products. Download certificates from ORDER HISTORY after your order ships.
OD
OD
Tolerance
ID
Yield
Strength

Hardness
Maximum
Hardness After
Heat Treatment
Specifications
Met
Straightness
Tolerance

1 ft.




Lg.

3 ft.




Lg.

6 ft.




Lg.

0.12"

Wall

Thick.

(-0.018" to 0.018" Tolerance)

3/8

"
-0.005" to 0.005"
0.135"
70,000 psi
Rockwell C20
Rockwell C49
MIL-T-6736, SAE AMS-T-6736, SAE AMS6360
0.030" per 3 ft.
000000000
Peel-Away

Layered Ring Shims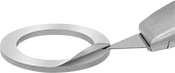 These shims are made of layers of metal bonded with adhesive. Remove layers with a utility knife until you get the thickness you need. To make the layers easier to pull apart, gently heat the shim to soften the adhesive. These shims fit around fasteners and shafts to precisely align, level, and adjust spacing.
Aluminum and brass are softer than stainless steel, so they can be used as wear plates between components that rub together, preventing damage to equipment. Brass is more corrosion resistant than aluminum.
For technical drawings and 3-D models, click on a part number.
ID
ID
Tolerance
OD
OD
Tolerance

No.


of
Layers
Layer


Thick.

Layer


Thick.


Tolerance

Min.


Hardness
Magnetic
Properties
Each

0.032"

Thick

(-0.005" to 0.005" Tolerance)

0.135"
-0.01" to 0.01"
0.234"
-0.01" to 0.01"
16
0.002"
-0.0003" to 0.0003"
Not Rated
Nonmagnetic
000000000
00000