Shims for Ball Bearings
For technical drawings and 3-D models, click on a part number.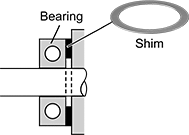 Adjust spacing between bearings and other components on shafts. These shims are sized to fit the outer rim of a bearing.
316 stainless steel shims have the best corrosion resistance of our stainless steel shims.
18-8 stainless steel shims offer good corrosion resistance.
Brass shims are corrosion resistant and nonmagnetic.
ID
OD
ID
ID
Tolerance
OD
OD
Tolerance

Min.


Hardness
Magnetic
Properties
Choose
a


Thick.

Pkg.




Qty.

Pkg.

316 Stainless Steel

5/64

",

1/8

"

1/4

"
0.167"
0" to 0.005"
0.248"
-0.005" to 0"
Rockwell B90
May Be Mildly Magnetic
10
000000000
000000

5/64

",

1/8

"

1/4

"
0.167"
0" to 0.005"
0.248"
-0.005" to 0"
Rockwell B70
May Be Mildly Magnetic
25
000000000
00000

260 Brass

5/64

",

1/8

"

1/4

"
0.167"
0" to 0.005"
0.248"
-0.005" to 0"
Rockwell B70
Nonmagnetic
10
000000000
0000