Peel-Away

Layered Ring Shims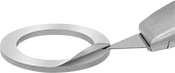 These shims are made of layers of metal bonded with adhesive. Remove layers with a utility knife until you get the thickness you need. To make the layers easier to pull apart, gently heat the shim to soften the adhesive. These shims fit around fasteners and shafts to precisely align, level, and adjust spacing.
Aluminum and brass are softer than stainless steel, so they can be used as wear plates between components that rub together, preventing damage to equipment. Brass is more corrosion resistant than aluminum.
For technical drawings and 3-D models, click on a part number.
ID
ID
Tolerance
OD
OD
Tolerance

No.


of
Layers
Layer


Thick.

Layer


Thick.


Tolerance

Min.


Hardness
Magnetic
Properties
Each

0.032"

Thick

(-0.005" to 0.005" Tolerance)

0.255"
-0.01" to 0.01"

1/2

"
-0.01" to 0.01"
16
0.002"
-0.0003" to 0.0003"
Not Rated
Nonmagnetic
000000000
00000