About Carbon
Steel,

Alloy

Steel,

Spring

Steel,

and Cast Iron
High-Temperature

Dry-Running

Sleeve Bearings
Graphite provides a layer of dry lubrication that operates in high-temperature environments.
Graphalloy bearings perform at extreme temperatures and under water. They are electrically conductive and wear resistant.
Note: Dynamic load capacity is the maximum load a bearing can withstand at a given shaft speed. If your application's load and speed requirements are below the values listed, the bearing will work.
For technical drawings and 3-D models, click on a part number.

Embedded
For
Housing ID

Lg.

Dynamic Radial
Load Capacity
Lubrication
Method
Temperature


Range,

°F

Each

Graphalloy

5/8

"

3/8

"
105 lbs. @ 120 rpm
Embedded
-450° to 750°
0000000
000000
Easy-to-Weld

4130 Alloy Steel Round Tubes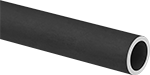 Yield

Strength:

See table

Hardness:

See table
Heat

Treatable:

Yes

Max.

Hardness After Heat

Treatment:

See table
Specifications

Met:

See table
4130 alloy steel has a low carbon content that provides good weldability. It's often used for gears, fasteners, and structural applications. These tubes meet military specifications and SAE dimensional standards.
For technical drawings and 3-D models, click on a part number.

Certificates with a traceable lot number are available for these products. Download certificates from ORDER HISTORY after your order ships.
OD
OD
Tolerance
ID
Yield
Strength

Hardness
Maximum
Hardness After
Heat Treatment
Specifications
Met
Straightness
Tolerance

1 ft.




Lg.

3 ft.




Lg.

6 ft.




Lg.

0.058"

Wall

Thick.

(-0.009" to 0.009" Tolerance)

1/2

"
-0.005" to 0.005"
0.384"
70,000 psi
Rockwell C20
Rockwell C49
MIL-T-6736, SAE AMS-T-6736, SAE AMS6360
0.030" per 3 ft.
000000000