About Carbon
Steel,

Alloy

Steel,

Spring

Steel,

and Cast Iron
Easy-to-Weld

4130 Alloy Steel Round Tubes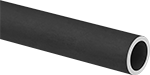 Yield

Strength:

See table

Hardness:

See table
Heat

Treatable:

Yes

Max.

Hardness After Heat

Treatment:

See table
Specifications

Met:

See table
4130 alloy steel has a low carbon content that provides good weldability. It's often used for gears, fasteners, and structural applications. These tubes meet military specifications and SAE dimensional standards.
For technical drawings and 3-D models, click on a part number.

Certificates with a traceable lot number are available for these products. Download certificates from ORDER HISTORY after your order ships.
OD
OD
Tolerance
ID
Yield
Strength

Hardness
Maximum
Hardness After
Heat Treatment
Specifications
Met
Straightness
Tolerance

1 ft.




Lg.

3 ft.




Lg.

6 ft.




Lg.

0.035"

Wall

Thick.

(-0.005" to 0.005" Tolerance)

3/4

"
-0.005" to 0.005"
0.68"
70,000 psi
Rockwell C20
Rockwell C49
MIL-T-6736, SAE AMS-T-6736, SAE AMS6360
0.030" per 3 ft.
000000000