About Carbon
Steel,

Alloy

Steel,

Spring

Steel,

and Cast Iron
Multipurpose
Dry-Running

Sleeve Bearings
Reinforced with polyester fabric, these plastic bearings have load and speed capabilities comparable to metal bearings. Bearings resist corrosion in outdoor and saltwater environments.
Bearings with seals block out dust and contaminants.
Note: Dynamic load capacity is the maximum load a bearing can withstand at a given shaft speed. If your application's load and speed requirements are below the values listed, the bearing will work.
For technical drawings and 3-D models, click on a part number.
Polyester Fabric-Reinforced PTFE Plastic Bearings with Seals

With Seals
For
Housing ID

Lg.

Dynamic Radial
Load Capacity
Color
Temperature


Range,

°F

Each
2

3/4

"
3

1/2

"
11,100 lbs. @ 30 rpm
Blue
-40° to 150°
0000000
0000000
Easy-to-Weld

4130 Alloy Steel Round Tubes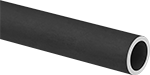 Yield

Strength:

See table

Hardness:

See table
Heat

Treatable:

Yes

Max.

Hardness After Heat

Treatment:

See table
Specifications

Met:

See table
4130 alloy steel has a low carbon content that provides good weldability. It's often used for gears, fasteners, and structural applications. These tubes meet military specifications and SAE dimensional standards.
For technical drawings and 3-D models, click on a part number.

Certificates with a traceable lot number are available for these products. Download certificates from ORDER HISTORY after your order ships.
OD
OD
Tolerance
ID
Yield
Strength

Hardness
Maximum
Hardness After
Heat Treatment
Specifications
Met
Straightness
Tolerance

1 ft.




Lg.

3 ft.




Lg.

6 ft.




Lg.

0.12"

Wall

Thick.

(-0.018" to 0.018" Tolerance)

2

1/4

"
-0.010" to 0.010"
2.01"
70,000 psi
Rockwell C20
Rockwell C49
MIL-T-6736, SAE AMS-T-6736, SAE AMS6360
0.030" per 3 ft.
000000000

Mount flush with jig plates for precise drilling. These bushings can also be used as spacers, shims, and machinery bushings.
Don't see the size you need? Additional sizes are available.
For technical drawings and 3-D models, click on a part number.
OD

Lg.

For
Drill
Bit Size
ID
OD

Lg.

Drill
Bushing
Type
Material
Hardness

1-5

6-11

12-Up

2

3/8

"
1

7/16

"
2"
0.0003" to 0.0007"
0.0021" to 0.0025"
-0.015" to 0.015"
P
Steel
Rockwell C61
00000000
000000
000000
000000