Metric
Press-Fit

Drill Bushings

Also known as jig bushings, these metric drill bushings fit inside fixture plate holes to guide drill bits, counterbores, reamers, and other cutting tools. They improve accuracy so that your drilled holes and cuts are consistent from part to part. Known for their versatility, drill bushings are also used as spacers, shims, and machinery bushings. These bushings are made of hardened, ground steel that holds its shape and resists wear, so they last for many cycles without needing to be replaced.
All bushings have a chamfer on the outside that centers the bushing as you place it into the hole. Press into place with a manual or hydraulic press. They also have internal chamfers, so it's easier to insert bits, pins, and punches into the bushing. Some bushings have internal chamfers on both ends, so no matter which end of the bushing is inserted into your jig, your bits, pins, and other tooling enter easily. Having an internal chamfer on the bottom of your bushing may cause shavings to get caught and bind as you remove the bit, however.
Don't see the size you need? Additional sizes are available.
For technical drawings and 3-D models, click on a part number.
OD,


mm

Lg.,


mm
Internal
Chamfer
For
Drill
Bit Size

ID,


mm

OD,


mm

Lg.,


mm
Drill
Bushing
Type
Material
Hardness

1-5

6-11

12-Up

21 mm ID

30
20
Both Ends
21 mm
0.02 to 0.041
0.015 to 0.028
-0.2 to 0.2
PM
Steel
Rockwell C61
000000000
000000
000000
000000
Metric
Press-Fit

Drill Bushings with Head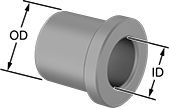 Shown in Countersunk Hole

Shown in Standard Hole
Even under extreme drilling pressure, these metric bushings won't press through your jig plate. A flanged head on the top of the bushing acts as a stop, preventing it from moving as you push down your drill bit, reamer, or other cutting bit. Drill bushings ensure accurate, consistent cuts and drilled holes from one part to the next. They sometimes also work as spacers, shims, and machinery bushings. Made of hardened, ground steel, these bushings hold their shape and resist wear over time. The flanged head protects your jig plate from damage caused by heavy use.
Although it's no longer an active standard, DIN 172 is still a common reference point for making sure parts are compatible with other parts and tools.
These bushings work in both countersunk and standard drill holes. To install, place the bushing inside the hole in your jig. A chamfered edge on the bottom of the bushing helps center the bushing in the hole. Once centered, press the bushing into the hole with a hydraulic or lever press.
For technical drawings and 3-D models, click on a part number.
OD,


mm

Lg.,


mm

OD,


mm

Thick.,


mm

ID,


mm

OD,


mm

Lg.,


mm
Drill
Bushing
Type
Material
Hardness
Specifications
Met

1-5

6-11

12-Up

21 mm ID

30
15
34
5
0.02 to 0.041
0.015 to 0.028
-0.2 to 0.2
H
Steel
Rockwell C61
DIN 172
000000000
000000
000000
000000
30
31
34
5
0.02 to 0.041
0.015 to 0.028
-0.3 to 0.3
H
Steel
Rockwell C61
DIN 172
000000000
00000
00000
00000
30
40
34
5
0.02 to 0.041
0.015 to 0.028
-0.3 to 0.3
H
Steel
Rockwell C61
DIN 172
000000000
00000
00000
00000