For a snug fit around a shaft, the ID of these shims is held to a tighter tolerance than other ring shims.
For accurate leveling, choose materials such as steel or stainless steel, which are hard enough to resist scratching and deforming. Softer shims, like brass, can be used as wear plates between components that rub together, preventing damage to equipment.
Stainless steel shims are more corrosion resistant than alloy steel shims.
For technical drawings and 3-D models, click on a part number.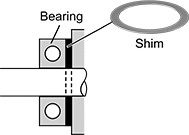 ID
ID
Tolerance
OD
OD
Tolerance
Material

Min.


Hardness
Magnetic
Properties

Pkg.




Qty.

Pkg.

0.001"

Thick.

(-0.0005"

to

0.0005"

Tolerance)

3/64

"
0" to 0.005"

1/8

"
-0.005" to 0.005"
18-8 Stainless Steel
Rockwell B70
May Be Mildly Magnetic
25
000000000
000000

0.002"

Thick.

(-0.0005"

to

0.0005"

Tolerance)

3/64

"
0" to 0.005"

1/8

"
-0.005" to 0.005"
18-8 Stainless Steel
Rockwell B70
May Be Mildly Magnetic
25
000000000
00000

0.003"

Thick.

(-0.0005"

to

0.0005"

Tolerance)

3/64

"
0" to 0.005"

1/8

"
-0.005" to 0.005"
18-8 Stainless Steel
Rockwell B70
May Be Mildly Magnetic
25
000000000
00000

0.004"

Thick.

(-0.0005"

to

0.0005"

Tolerance)

3/64

"
0" to 0.005"

1/8

"
-0.005" to 0.005"
18-8 Stainless Steel
Rockwell B70
May Be Mildly Magnetic
25
000000000
00000

0.005"

Thick.

(-0.0005"

to

0.0005"

Tolerance)

3/64

"
0" to 0.005"

1/8

"
-0.005" to 0.005"
18-8 Stainless Steel
Rockwell B70
May Be Mildly Magnetic
25
000000000
00000

0.006"

Thick.

(-0.0005"

to

0.0005"

Tolerance)

3/64

"
0" to 0.005"

1/8

"
-0.005" to 0.005"
18-8 Stainless Steel
Rockwell B70
May Be Mildly Magnetic
25
000000000
00000

0.008"

Thick.

(-0.0005"

to

0.0005"

Tolerance)

3/64

"
0" to 0.005"

1/8

"
-0.005" to 0.005"
18-8 Stainless Steel
Rockwell B70
May Be Mildly Magnetic
25
000000000
00000

0.01"

Thick.

(-0.001" to 0.001" Tolerance)

3/64

"
0" to 0.005"

1/8

"
-0.005" to 0.005"
18-8 Stainless Steel
Rockwell B70
May Be Mildly Magnetic
25
000000000
00000

0.012"

Thick.

(-0.001" to 0.001" Tolerance)

3/64

"
0" to 0.005"

1/8

"
-0.005" to 0.005"
18-8 Stainless Steel
Rockwell B70
May Be Mildly Magnetic
25
000000000
00000

0.014"

Thick.

(-0.001" to 0.003" Tolerance)

3/64

"
0" to 0.005"

1/8

"
-0.005" to 0.005"
18-8 Stainless Steel
Rockwell B70
May Be Mildly Magnetic
25
000000000
00000

0.016"

Thick.

(-0.002" to 0.002" Tolerance)

3/64

"
0" to 0.005"

1/8

"
-0.005" to 0.005"
18-8 Stainless Steel
Rockwell B70
May Be Mildly Magnetic
25
000000000
00000