Metric
Press-Fit

Drill Bushings with Head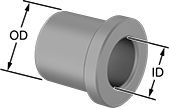 Shown in Countersunk Hole

Shown in Standard Hole
Even under extreme drilling pressure, these metric bushings won't press through your jig plate. A flanged head on the top of the bushing acts as a stop, preventing it from moving as you push down your drill bit, reamer, or other cutting bit. Drill bushings ensure accurate, consistent cuts and drilled holes from one part to the next. They sometimes also work as spacers, shims, and machinery bushings. Made of hardened, ground steel, these bushings hold their shape and resist wear over time. The flanged head protects your jig plate from damage caused by heavy use.
Although it's no longer an active standard, DIN 172 is still a common reference point for making sure parts are compatible with other parts and tools.
These bushings work in both countersunk and standard drill holes. To install, place the bushing inside the hole in your jig. A chamfered edge on the bottom of the bushing helps center the bushing in the hole. Once centered, press the bushing into the hole with a hydraulic or lever press.
For technical drawings and 3-D models, click on a part number.
OD,


mm

Lg.,


mm

OD,


mm

Thick.,


mm

ID,


mm

OD,


mm

Lg.,


mm
Drill
Bushing
Type
Material
Hardness
Specifications
Met

1-5

6-11

12-Up

31 mm ID

48
20
52
5
0.025 to 0.05
0.017 to 0.033
-0.2 to 0.2
H
Steel
Rockwell C61
DIN 172
000000000
000000
000000
000000
48
40
52
5
0.025 to 0.05
0.017 to 0.033
-0.3 to 0.3
H
Steel
Rockwell C61
DIN 172
000000000
00000
00000
00000
48
51
52
5
0.025 to 0.05
0.017 to 0.033
-0.3 to 0.3
H
Steel
Rockwell C61
DIN 172
000000000
000000
000000
00000