About
Copper,

Brass,

and Bronze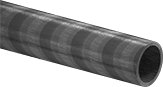 Yield

Strength:

18,

000 psi

Hardness:

Rockwell B35

(Soft)

Temper: M07

Heat

Treatable:

No
Specifications

Met:

ASTM B505
Offering excellent antifriction qualities, 932 bronze also offers good strength and wear resistance. It's also known as SAE 660 and is often used for bearings, bushings, and thrust washers.
For technical drawings and 3-D models, click on a part number.

Certificates with a traceable lot number are available for these products. Download certificates from ORDER HISTORY after your order ships.
MDS-Filled

Easy-to-Machine

Wear-Resistant

Cast Nylon Tubes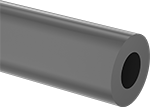 Color:

Black
Maximum

Temperature:

230° F

Tensile

Strength:

10,

000 psi

(Good)

Impact

Strength:

1.

4

ft.

-

lbs./in.

(Poor)

Hardness:

Rockwell R110

(Hard)

For Use

Outdoors:

Yes
Specifications

Met:

ASTM D5989
The addition of MDS gives these tubes exceptional wear resistance along with a self-lubricating surface. They're made of cast nylon 6, making them easier to machine and better electrical insulators than other MDS-filled nylon tubes. Tubes can be used to fabricate pulleys, bushings, and bearings installed in hard-to-reach areas where adding a lubricant would be difficult. The OD is oversized and the ID is undersized to allow for finishing to the sizes listed. This material is comparable to Nylatron and Nycast.
For technical drawings and 3-D models, click on a part number.