Selecting Compatible Lead Screws and Nuts
Threadless Lead Screw Nuts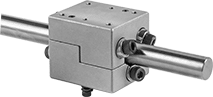 Shown with Rotary Shaft
(Not Included)
Install these nuts on a rotary shaft to create a linear positioning system without a lead screw. Instead of threads, a set of angled ball bearings drives the nut along a shaft as it spins. Nuts move towards you when the shaft rotates clockwise and away from you when the shaft rotates counterclockwise. To prevent overload damage, these nuts can be adjusted to slip and stop travelling at a given thrust load. Thrust loads are loads that are applied parallel to the shaft. Bearings are permanently lubricated to save maintenance time and effort.
Travel distance per turn is the distance the nut moves with one revolution of the shaft.
For technical drawings and 3-D models, click on a part number.

For
Shaft


Dia.

Travel
Distance
per Turn

Max.

Thrust


Cap.

Before


Slip,

lbs.

Lg.

Wd.

Ht.

Ctr.




Ht.

Ctr.-to-Ctr.




Lg.

Thread
Size

No.


of
Construction
Temperature


Range,




°F

Each

Aluminum

3/8

"
0.03"
15
2

1/4

"
1

1/8

"
1

21/32

"

37/64

"

3/4

"
6-32

2
Two Piece
-10° to 180°
0000000
0000000

3/8

"
0.1"
30
2

13/16

"
1

1/2

"
1

29/32

"

49/64

"
1"
10-32

2
Two Piece
-10° to 180°
0000000
000000

1/2

"
0.2"
60
3

27/64

"
2"
2

11/16

"
1

1/64

"
1

1/4

"

1/4

"-20

2
Two Piece
-10° to 180°
0000000
000000

1/2

"
0.5"
60
3

27/64

"
2"
2

11/16

"
1

1/64

"
1

1/4

"

1/4

"-20

2
Two Piece
-10° to 180°
0000000
000000

3/4

"
0.75"
60
3

27/64

"
2"
2

11/16

"
1

1/64

"
1

1/4

"

1/4

"-20

2
Two Piece
-10° to 180°
0000000
000000

For Shaft


Dia.,


mm
Travel
Distance
per

Turn,

mm

Max.

Thrust


Cap.

Before


Slip,

lbs.

Lg.,


mm

Wd.,


mm

Ht.,


mm

Ctr.




Ht.,


mm

Ctr.-to-Ctr.




Lg.,


mm

Ctr.-to-Ctr.




Wd.,


mm
Thread
Size

Thread


Pitch,


mm

No.


of
Construction
Temperature


Range,




°F

Each

Aluminum

6
6
5
36
20
28
10
10
__
M3

0.5
2
Two Piece
0° to 230°
0000000
0000000
8
8
16
56
28
40
14
18
__
M4

0.7
2
Two Piece
0° to 230°
0000000
000000
10
10
26
62
36
51
18
20
__
M4

0.7
2
Two Piece
0° to 230°
0000000
000000
12
12
33
72
40
54
20
25
__
M5

0.8
2
Two Piece
0° to 230°
0000000
000000
20
20
59
97
60
71
30
50
40
M6

1
4
Two Piece
0° to 230°
0000000
000000