About Paint and Protective Coatings
Blackener Kits for Ferrous Metal Tools
For use with steel and iron parts, these kits create a flat, black protective finish that resists corrosion and reduces glare. Use as an alternative to purchasing black-oxide tools.
Gel and thin liquid blackeners include blackener, cleaner, and sealer. Dip or swab to apply.
Liquid concentrate blackeners include blackener, sealer, and mixing pails. Dilute up to 10 times the amount of blackener in each kit—the higher the concentration, the faster the blackening process.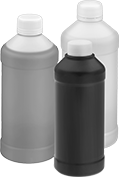 Container
Size
Consistency
Composition
Approximate


Coverage,




sq.

ft.

Max.




Temp.,




°F

Application


Temp.




Range,

°F

For
Use
On
Includes
Color
Each
Each
1 pt.
Gel
Water Based
20
250°
65° to 75°
Steel, Iron
One Blackener, One Cleaner, One Sealer
Black
0000000
0000000
0000000
000000
1 pt.
Liquid Concentrate
Water Based
40
500°
65° to 75°
Steel, Iron
1 Pint Blackener, 2 Quarts Sealer, Two 2 Gallon Plastic Pails
Black
0000000
000000
0000000
00000
1 pt.
Thin Liquid
Water Based
25-30
250°
65° to 75°
Steel, Iron
One Blackener, One Cleaner, One Sealer
Black
0000000
000000
0000000
00000
2 qt.
Liquid Concentrate
Water Based
160
500°
65° to 75°
Steel, Iron
2 Gallons Sealer, 2 Quarts Blackener, One 3.5 Gallon Plastic Pail, One 6 Gallon Plastic Pail
Black
0000000
000000
0000000
00000
2 pt.
Liquid Concentrate
Water Based
80
500°
65° to 75°
Steel, Iron
1 Gallon Sealer, 2 Pints Blackener, Two 3.5 Gallon Plastic Pails
Black
0000000
000000
0000000
00000
Blackener Kits for Nonferrous Metal Tools