Bodily Fluid Cleanup Kits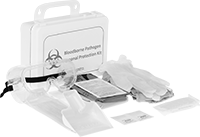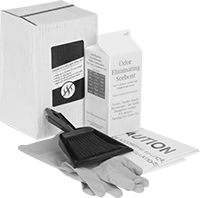 Clean up after accidents without touching the mess. Use the gloves, pans, and disposal bags in these kits to safely pick up and dispose of fluids.
Kits with a 0.4-gal. spill capacity are used for cleaning up small amounts of blood and other hazardous fluids. They include protective clothing, disinfectant, and biohazard disposal bags to help you meet OSHA requirements. Note: Before transporting biohazard disposal bags, check federal, state, and local codes.
The wintergreen-scented sorbent in kits with a 1-gal. spill capacity neutralizes odors from vomit and other liquids. Sweep up the neutralized waste with the miniature broom and dust pan.
Kits that cannot be sold outside the United States are restricted by import regulations.
Spill


Capacity,




gal.

Container
Type

Ht.

Wd.

Dp.

Includes
Mounting
Location
Mounting
Fasteners
Included
Number
of

Dia.

Cannot
Be
Sold To
Each

For Use With Bodily Fluids

0.4
Plastic Case
7"
10"
3"
Two

3/4

-oz. Pouches of Absorbent Compound
Surface Disinfectant
Two Towelettes
Two Paper Towels
One Scoop
One Barrier Gown
One Surgical-Style Mask
One Pair of Goggles
One Pair of Shoe Covers
One Pair of Vinyl Gloves
One Biohazard Disposal Bag
One Incident Report Sheet
Wall
No
2

3/8

"
Outside United States
00000000
000000
1
Cardboard Box
10

3/8

"
6

7/8

"
5

5/8

"
One 10-oz. Carton of Odor-Neutralizing Granular Sorbent
One Miniature Broom and Dust Pan
One Disposal Bag
One Pair of Nitrile Gloves
__
__
__
__
__
00000000
00000