Shielded
Equipment-Cooling

Fan Guards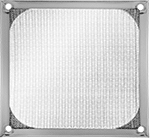 Mesh Guard for Square Fans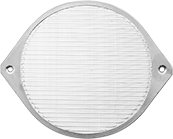 Mesh Guard for Round and Oblong Fans

Honeycomb Guard for Square Fans
Made of conductive metal, these guards cover fans to block EMI (electromagnetic interference) and RFI (radio frequency interference). The screen also helps keep large debris out of your enclosure and protects fingers from spinning fans.
Mesh fan guards work for general purpose shielding.
Honeycomb fan guards shield sensitive parts, such as precision measuring equipment. They have high interference reduction at frequency, also known as attenuation, so they block most interference. The beryllium copper gasket seals gaps between the fan guard and your enclosure for additional protection. Do not use in direct contact with acetylene.
For technical drawings and 3-D models, click on a part number.
Height
Width
Diameter
Thickness
Interference
Reduction
@ Frequency
Screen
Material
Gasket
Material

Temp.




Range,




°F

Each

Aluminum

Mesh

For Square Fans

2.36" (60 mm)
2.36" (60 mm)
__
0.17" (4.3 mm)
Not Rated
Stainless Steel
__
__
00000000
00000
3.15" (80 mm)
3.15" (80 mm)
__
0.17" (4.3 mm)
Not Rated
Stainless Steel
__
__
00000000
0000
3.62" (92 mm)
3.62" (92 mm)
__
0.17" (4.3 mm)
Not Rated
Stainless Steel
__
__
00000000
0000
4.69", 4.72" (119 mm, 120 mm)
4.69", 4.72" (119 mm, 120 mm)
__
0.17" (4.3 mm)
Not Rated
Stainless Steel
__
__
00000000
0000
5", 5.31" (127 mm, 135 mm)
5", 5.31" (127 mm, 135 mm)
__
0.17" (4.3 mm)
Not Rated
Stainless Steel
__
__
00000000
0000

For Round and Oblong Fans

5.91" (150 mm)
6.77" (172 mm)
5.91", 6.77" (150 mm, 172 mm)
0.17" (4.3 mm)
Not Rated
Stainless Steel
__
__
00000000
00000

Honeycomb

For Square Fans

1.5" (38 mm)
1.5" (38 mm)
__
0.35" (8.8 mm)
80 dB @ 1 GHz
Aluminum
Beryllium Copper
-55° to 150°
0000000
00000
1.57" (40 mm)
1.57" (40 mm)
__
0.35" (8.8 mm)
80 dB @ 1 GHz
Aluminum
Beryllium Copper
-55° to 150°
0000000
00000
2.36" (60 mm)
2.36" (60 mm)
__
0.35" (8.8 mm)
80 dB @ 1 GHz
Aluminum
Beryllium Copper
-55° to 150°
0000000
00000
3.15" (80 mm)
3.15" (80 mm)
__
0.35" (8.8 mm)
80 dB @ 1 GHz
Aluminum
Beryllium Copper
-55° to 150°
0000000
00000
3.62" (92 mm)
3.62" (92 mm)
__
0.35" (8.8 mm)
80 dB @ 1 GHz
Aluminum
Beryllium Copper
-55° to 150°
0000000
00000
4.72" (120 mm)
4.72" (120 mm)
__
0.35" (8.8 mm)
80 dB @ 1 GHz
Aluminum
Beryllium Copper
-55° to 150°
0000000
00000

Mesh

For Square Fans

2.36" (60 mm)
2.36" (60 mm)
__
0.17" (4.3 mm)
Not Rated
Stainless Steel
__
__
000000000
0000
3.15" (80 mm)
3.15" (80 mm)
__
0.17" (4.3 mm)
Not Rated
Stainless Steel
__
__
000000000
0000
3.62" (92 mm)
3.62" (92 mm)
__
0.17" (4.3 mm)
Not Rated
Stainless Steel
__
__
000000000
0000
4.69", 4.72" (119 mm, 120 mm)
4.69", 4.72" (119 mm, 120 mm)
__
0.17" (4.3 mm)
Not Rated
Stainless Steel
__
__
000000000
0000

For Round and Oblong Fans

5.91" (150 mm)
6.77" (172 mm)
5.91", 6.77" (150 mm, 172 mm)
0.17" (4.3 mm)
Not Rated
Stainless Steel
__
__
000000000
00000