Personnel Cleaning
Blow-Off

Systems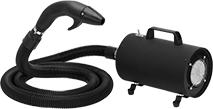 Portable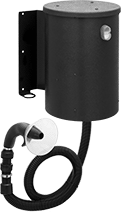 Wall Mount
Safely blow dust and debris off your clothes. These blowers are a safer alternative to compressed air and help you meet OSHA regulations. A heavy duty plastic body protects these blowers from damage and wear.
Bring portable blowers to job sites. They can also be used to clear off machinery and benchtops around your shop. Clean hard-to-reach areas with an extra-long hose.
Wall-mount blowers automatically shut off after 60 seconds to save energy. A holster stores the nozzle out of the way when blowers are not in use. Blowers include a chip guard and a swivel hose connector.
Chip guards prevent loose particles from flying back towards the user.
Swivel hose connectors enable the nozzle to rotate freely for easy movement.
Nozzle


Lg.

Volume,


dB

Horsepower,


hp
Air


Pressure,


psi

Dia.

Lg.,




ft.

Body
Material

Ht.

Wd.

Dp.

Current,


A
Voltage
Cord


Lg.,




ft.

Mounting
Fasteners
Included
Specifications
Met
Features
Each

Portable

2"
74
0.6
3
1

1/2

"
8
Plastic
13

3/4

"
11"
14"
10.8
120V AC
6
__
OSHA Compliant 29 CFR 1910.242
__
0000000
000000000

Wall Mount

2"
78
1.75
3
1

1/2

"
4

1/2

Plastic
16"
14"
12"
10.8
120V AC
6
No
OSHA Compliant 29 CFR 1910.242
Automatic Shut-Off
0000000
00000000