About Gradual
On/Off

Valves
Threaded Gradual
On/Off

Valves for Boiler

Blow-Off
Prevent boiler scale deposits and sediment buildup with these valves that meet ASME standards for boiler drainage applications. They gradually open and close to prevent system damage from suddenly starting or stopping flow.
Wheel handles open and close with multiple turns, providing more controlled, shock-resistant flow than lever handles. They have a nonrising stem that stays in the same position whether the valve is open or closed.
Lever handles open and close faster than wheel handles.
Flow coefficient (Cv) is the amount of water (in gallons per minute) at 60° F that will flow through a fully open valve with a difference of 1 psi between the inlet and the outlet.
For technical drawings and 3-D models, click on a part number.
Wheel Handle and Nonrising Stem—Cast Iron Body and Gate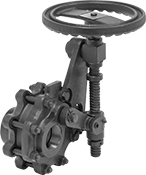 Valve

Type:

Gate

For Use

With:

Water
Packing

Material:

EPDM Rubber
Specifications

Met:

ASME

B16.34,

ASME

B16.5,

ASME

B31.1,

ASME

BPVC.

I
Lever Handle—Cast Iron Body and Gate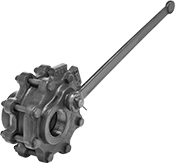 Valve

Type:

Gate

For Use

With:

Water
Packing

Material:

EPDM Rubber
Specifications

Met:

ASME

B16.34,

ASME

B16.5,

ASME

B31.1,

ASME

BPVC.

I
Pipe
Size

Flow
Coefficient

(Cv)

Max.

Pressure

Temp.




Range,

°F

End-to-End




Lg.

Ht.

Lg.

Each

NPT Female

1

40
250 psi @ 350° F
35° to 350°
3

5/8

"
14

1/4

"
4

7/16

"
0000000
0000000
1

1/4

60
250 psi @ 350° F
35° to 350°
3

5/8

"
13

1/16

"
4

3/4

"
0000000
000000
1

1/2

108
250 psi @ 350° F
35° to 350°
4

1/2

"
20

3/8

"
5

13/16

"
0000000
00000000
2

132
250 psi @ 350° F
35° to 350°
4

5/8

"
21

5/16

"
6

1/16

"
0000000
00000000