About Bonding and Grounding for Static Control
Bonding and Grounding Reels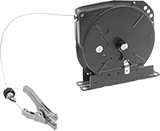 Steel Reel with Plier Clamp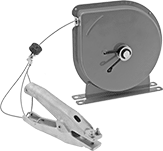 Steel Reel with
Quick-Release
Clamp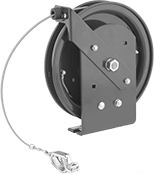 Steel Reel with Alligator Clip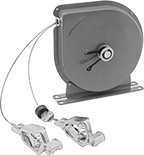 Steel Reel with 2 Alligator Clips and
Y-Style
Steel Cable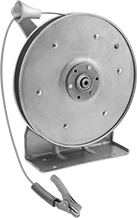 Stainless Steel Reel with Plier Clamp
Keep grounding clamps and cables neatly organized and stored. A locking ratchet holds the cable at any length and releases instantly with a light tug. The spring return automatically retrieves cable and a stop keeps the cable end within reach.
Ratchet override allows you to keep constant tension on the cable by overriding the locking ratchet.
Quick-release clamp opens when the cable is pulled.
Y-style cable consists of two cables that extend from a single cable connected to the reel.
Electrical
Connection
Type
Clamp
Type
Cable


Lg.,




ft.

Jaw
Opening
Connection
Material
Overall


Ht.

Material
OD
Insulation
Color

Lg.

Wd.

Features
Each

Steel Housing

Noninsulated Cable

Grounding Clamp
Plier Clamp
20

1/2

"
Aluminum
6

1/4

"
Galvanized Steel
0.09"
__
5

3/4

"
2"
Locking Ratchet
0000000
0000000
Grounding Clamp
Plier Clamp
50

1/2

"
Aluminum
8

3/4

"
Galvanized Steel
0.09"
__
8

11/16

"
2

1/4

"
Locking Ratchet
0000000
000000
Grounding Clamp
Quick-Release Clamp
50
1

1/4

"
Aluminum
8

3/4

"
Galvanized Steel
0.09"
__
8

11/16

"
2

1/4

"
Locking Ratchet
0000000
000000

Insulated Cable

Alligator Clip
__
20
1

1/4

"
Zinc-Plated Steel
6

1/4

"
Galvanized Steel
0.09"
Orange
5

3/4

"
2"
Locking Ratchet
0000000
000000
Alligator Clip
__
25
1

1/4

"
Zinc-Plated Steel
6

1/4

"
Steel
0.09"
Orange
5

3/4

"
2"
Locking Ratchet, Ratchet Override
0000000
000000
Alligator Clip
__
35
1"
Zinc-Plated Steel
12"
Stainless Steel
0.09"
Orange
6"
2

1/2

"
Locking Ratchet
00000000
000000
Alligator Clip
__
50
1"
Zinc-Plated Steel
12"
Stainless Steel
0.09"
Orange
6"
2

1/2

"
Locking Ratchet
00000000
000000
Alligator Clip
__
50
1

1/4

"
Zinc-Plated Steel
8

3/4

"
Galvanized Steel
0.09"
Orange
8

11/16

"
2

1/4

"
Locking Ratchet
0000000
000000
Alligator Clip
__
50
1

1/4

"
Zinc-Plated Steel
8

3/4

"
Steel
0.09"
Orange
8

11/16

"
2

1/4

"
Locking Ratchet, Ratchet Override
0000000
000000
Alligator Clip × Alligator Clip
__
50
1

1/4

"
Zinc-Plated Steel
8

3/4

"
Steel
0.09"
Orange
8

11/16

"
2

1/4

"
Locking Ratchet, Ratchet Override, Y-Style Cable
0000000
000000

Stainless Steel Housing

Insulated Cable

Grounding Clamp
Plier Clamp
50

1/2

"
Aluminum
17"
Stainless Steel
0.19"
Clear
11

1/2

"
4"
Locking Ratchet
0000000
000000
Grounding Clamp
Plier Clamp
100

1/2

"
Aluminum
17"
Stainless Steel
0.19"
Clear
11

1/2

"
4"
Locking Ratchet
0000000
000000