Bridgeport Machine Bellows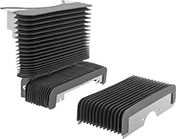 Guard 9" and 12" travel Bridgeport milling machines by covering their rear knee/upper column and front knee. Do not use with Series II Bridgeport machines. Sewn seams let these bellows breathe, so they retract quickly in fast-cycling applications. The seams will allow small amounts of moisture and dust to pass through. Mount these bellows to surfaces with screws.
For

Max.


Table
Travel
Material
Material


Thick.

Temp.




Range,




°F

Mounting
Fasteners
Included
Includes
Each

Protects Against Abrasive

Grit,

Coolant,

Cutting

Fluid,

Debris,

Dust,

Metal

Chips,

Oil,

Salt

Water,

Synthetic

Oil,

Water,

Wood Chips

9", 12"
Rubber-Coated Fabric
0.02"
-30° to 260°
Yes
Front Knee Cover, Rear Knee/Upper Column Cover
0000000
0000000
Lift Table Bellows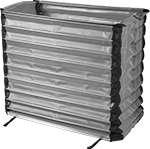 Bellows
Also known as lift table skirts, these bellows cover the working parts at the base of a lift table. In addition to keeping damaging debris out, they protect workers from pinch points in the moving parts. All of these bellows have frames for stability. They can be fastened to lift tables with hook-and-loop strips and fasteners (not included).
For technical drawings and 3-D models, click on a part number.
Lg.

Wd.

Ht.

Material
Material


Thick.

Frame
Material
Each

Protects Against

Debris,

Metal

Chips,

Wood Chips

25"
12"
4"-30"
PVC Fabric
0.21"
Aluminum
0000000
0000000
42"
18"
5"-42"
PVC Fabric
0.21"
Aluminum
0000000
00000000
48"
48"
4"-32"
PVC Fabric
0.21"
Aluminum
0000000
00000000
48"
48"
5"-43

3/4

"
PVC Fabric
0.21"
Aluminum
0000000
00000000
96"
48"
5"-42

1/2

"
PVC Fabric
0.21"
Aluminum
0000000
00000000
96"
48"
5"-44"
PVC Fabric
0.21"
Aluminum
0000000
00000000