Boring Tool Holders for Milling Machines
Instead of widening a hole using a lathe, which turns the workpiece while the cutting tool stays still, use these holders to turn your boring bar in a milling machine and keep the workpiece stationary. They're good for creating holes that are too large to drill or a diameter you don't have a drill bit for. To help you bore holes to precise diameters, these holders have an adjustment dial with fine increments. Mount them in your milling machine using their shank. They're also known as boring heads.
Holders for interchangeable shanks work with various hole sizes and machines. Add a compatible shank, these holders do not include one.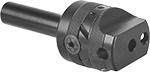 Holder with Straight Shank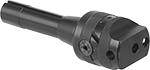 Holder with R8 Taper Shank

Holder for Interchangeable Shanks

Adjustment Dial
For Tool
Bit Shank
Diameter
Length
Diameter
Thread
Size

Head
Diameter
Offset
Travel
Vertical
Hole
Spacing
Overall
Length
Material
Features
Each

Holder with Straight Shank

3/8

"
2

5/8

"

3/4

"
__
2"
0.75"
0.625"
5

1/16

"
Steel
Adjustment Dial
00000000
0000000

1/2

"
2

5/8

"

3/4

"
__
2

1/2

"
0.75"
0.75"
5

13/16

"
Steel
Adjustment Dial
00000000
000000

5/8

"
2

5/8

"

3/4

"
__
2

1/2

"
0.75"
0.75"
5

13/16

"
Steel
Adjustment Dial
00000000
000000

3/4

"
2

5/8

"
1"
__
3"
1.25"
0.938"
6

1/8

"
Steel
Adjustment Dial
00000000
000000

Holder with R8 Taper Shank

3/8

"
4"
__
__
2"
0.75"
0.625"
6

7/16

"
Steel
Adjustment Dial
00000000
000000

1/2

"
4"
__
__
2

1/2

"
0.75"
0.75"
7

3/16

"
Steel
Adjustment Dial
00000000
000000

5/8

"
4"
__
__
2

1/2

"
0.75"
0.75"
7

3/16

"
Steel
Adjustment Dial
00000000
000000

3/4

"
4"
__
__
3"
1.25"
0.938"
7

1/2

"
Steel
Adjustment Dial
00000000
000000

Holder for Interchangeable Shanks

3/8

"
__
__

7/8

"-20

2"
0.75"
0.625"
2

7/16

"
Steel
Adjustment Dial
00000000
000000

1/2

"
__
__

7/8

"-20

2

1/2

"
0.75"
0.75"
3

3/16

"
Steel
Adjustment Dial
0000000
000000

5/8

"
__
__

7/8

"-20

2

1/2

"
0.75"
0.75"
3

3/16

"
Steel
Adjustment Dial
00000000
000000

3/4

"
__
__
1

1/2

"-18

3"
1.25"
0.313"
3

1/2

"
Steel
Adjustment Dial
00000000
000000
Shanks for Boring Tool Holders for Interchangeable Shanks

Interchangeable Straight Shank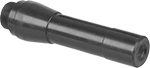 Interchangeable R8 Shank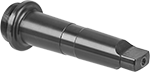 Interchangeable Morse Taper Shank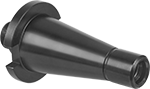 Interchangeable Machine Taper Shank
Thread
Size

Morse
Taper Size
Machine
Taper Size
Length
Diameter
Material
Includes
Each

Straight Shank

7/8

"-20

__
__
2

5/8

"

1/2

"
Steel
__
0000000
000000

7/8

"-20

__
__
2

5/8

"

3/4

"
Steel
__
00000000
00000
1

1/2

"-18

__
__
2

5/8

"
1"
Steel
__
00000000
00000

R8 Taper Shank

7/8

"-20

__
__
4"
__
Steel
__
00000000
00000
1

1/2

"-18

__
__
4"
__
Steel
__
00000000
00000

Morse Taper Shank

7/8

"-20

3
__
3

7/8

"
__
Steel
Tang
00000000
00000
1

1/2

"-18

4
__
4

7/8

"
__
Steel
Tang
00000000
000000

Machine Taper Shank

7/8

"-20

__
#40
3

3/4

"
__
Steel
Draw Bar, Drive Flange
00000000
000000
1

1/2

"-18

__
#40
3

3/4

"
__
Steel
Draw Bar, Drive Flange
00000000
000000