Pass-Through

Cabinets for Clean Rooms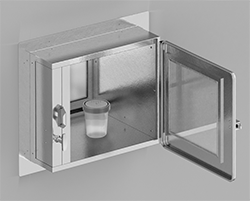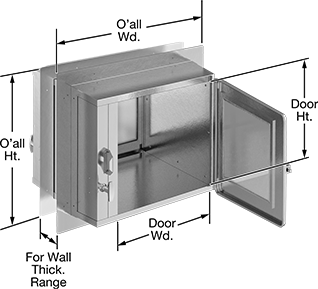 Protect your clean room from contaminants by moving parts, materials, and equipment in and out through these cabinets. They limit the number of people entering the clean room, which helps you comply with pharmaceutical, semiconductor, food-processing, vehicle, and air and spacecraft industry standards. Use them as an airlock—closing their doors compresses a gasket, which makes the seal airtight. Since the two doors are interlocked, only one can be open at a time and there's no risk of depressurizing and contaminating the clean room. There's a window on each door for checking if materials are inside, as well as seeing into the opposite room.
Made of stainless steel and meeting USP 800, these cabinets stand up to regular cleanings without degrading. Inside, they have no lips or crevices that could hold contaminants, so they're easy to wipe down to meet clean room standards in manufacturing and lab settings. Their silicone gasket holds up to frequent wiping because it's non-porous and won't disintegrate.
Mount these cabinets to a wide range of wall thicknesses. Choose any spot along their body to attach them to their mounting frame. This lets you customize how far these cabinets extend into the clean room. You can even make them flush on either side of the wall.
For technical drawings and 3-D models, click on a part number.
For
Wall
Thickness
Height
Width
Height
Width
Height
Width
Height
Width
For
Use
Outdoors
Mounting
Fasteners
Included
Environmental
Rating
Specifications
Met
Includes
Each

Stainless Steel with Silicone Rubber Gasket

2"-24"
20

1/2

"
29

1/4

"
24"
24"
26"
28

3/4

"
20"
20"
No
Yes
ISO Class 4

USP 800
Liner
0000000
000000000