Mounting Location

Mounting Location
Show
For Framing Width

For Framing Width
Clear

Semi-

Clear
White
DFARS (Defense Acquisition Regulations Supplement)

DFARS

(Defense

Acquisition

Regulations

Supplement)
RoHS (Restriction of Hazardous Substances)

RoHS

(Restriction

of
Hazardous

Substances)
Hangers for Suspended Ceilings

A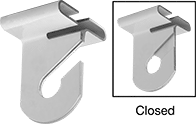 B

C

D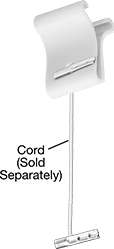 E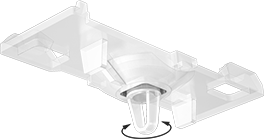 F

G

H

J

K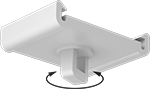 L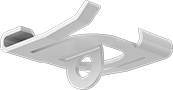 M

N

P

Q
Slide hangers onto ceiling tile framing to suspend signs, cords, and cable.
Use Style A to mount items flush with the wall.
Style B have a two-piece design to form a closed or open hook.
Style C rotate 360° for easy positioning.
Styles D, G, and Q securely attach to ceiling grids. To use, simply turn and lock into place.
Style E clip onto ceiling grids for a tight, secure attachment.
Styles F and L have a swivel loop clip that grabs onto ceiling grids and rotates 360°.
Style H fold onto ceiling grids for a quick, sturdy attachment.
Style J have a one-piece hinged design to open and close around ceiling grids.
Style K connect securely to the side of ceiling grids.
Style M are made of strong steel for an excellent grip. Twist and lock them securely onto ceiling grids.
Styles N and P lock onto ceiling grids with a squeeze.
Use cords (sold separately) to suspend lightweight signs. Cord is plastic with metal barbs at both ends. They're compatible with styles D, E, F, G, H, J, K, L, M, N, P, and Q.
For technical drawings and 3-D models, click on a part number.