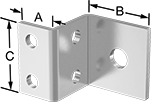 1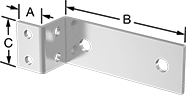 2
Zinc-plated steel brackets are corrosion resistant in wet environments.
Galvanized steel brackets have better corrosion resistance in wet environments than zinc-plated steel and can be used outdoors.
Aluminum brackets are about half the weight of steel and resist corrosion in wet environments. Use them with other aluminum parts.
For technical drawings and 3-D models, click on a part number.
(A)

(B)

(C)

Offset

Thick.

Capacity
Fasteners
Included
Number
of Holes
Hole
Style
For Screw
Size

1-49

50-Up

1

3/4

"
1

1/2

"
1

1/2

"

7/8

"
0.13"
Not Rated
No
5
Straight

1/4

",

3/8

"
0000000
00000
00000
1

3/4

"
1

1/2

"
1

1/2

"
1

1/8

"
0.13"
Not Rated
No
5
Straight

1/4

",

3/8

"
0000000
0000
000
2

3/4

"
4

1/4

"
1

1/2

"

7/8

"
0.13"
Not Rated
No
6
Straight

1/4

",

3/8

"
0000000
0000
0000
2

7/8

"
4

1/4

"
1

1/2

"
1

1/8

"
0.13"
Not Rated
No
6
Straight

1/4

",

3/8

"
0000000
0000
0000
1

3/4

"
1

1/2

"
1

1/2

"

7/8

"
0.13"
Not Rated
No
5
Straight

1/4

",

3/8

"
0000000
000
000
1

3/4

"
1

1/2

"
1

1/2

"
1

1/8

"
0.13"
Not Rated
No
5
Straight

1/4

",

3/8

"
0000000
0000
000
2

3/4

"
4

1/4

"
1

1/2

"

7/8

"
0.13"
Not Rated
No
6
Straight

1/4

",

3/8

"
0000000
0000
0000
2

7/8

"
4

1/4

"
1

1/2

"
1

1/8

"
0.13"
Not Rated
No
6
Straight

1/4

",

3/8

"
0000000
0000
0000
1

3/4

"
1

1/2

"
1

1/2

"

7/8

"
0.13"
Not Rated
No
5
Straight

1/4

",

3/8

"
0000000
0000
0000
1

3/4

"
1

1/2

"
1

1/2

"
1

1/8

"
0.13"
Not Rated
No
5
Straight

1/4

",

3/8

"
0000000
0000
0000
2

3/4

"
4

1/4

"
1

1/2

"

7/8

"
0.13"
Not Rated
No
6
Straight

1/4

",

3/8

"
0000000
0000
0000
2

7/8

"
4

1/4

"
1

1/2

"
1

1/8

"
0.13"
Not Rated
No
6
Straight

1/4

",

3/8

"
0000000
0000
0000