About
Copper,

Brass,

and Bronze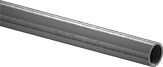 Yield

Strength:

60,

000 psi

Hardness:

Rockwell B75

(Medium)

Temper:

H80

(Full

Hard)

Heat

Treatable:

No
Specifications

Met:

ASTM B135
Offering the highest yield strength of all our brass, 330 has a low lead content for a good balance of machinability and formability. It's used for fire station poles, pump cylinder lines, and plumbing accessories.
For technical drawings and 3-D models, click on a part number.

Certificates with a traceable lot number are available for these products. Download certificates from ORDER HISTORY after your order ships.
OD
OD Tolerance Range
ID

1 ft.

Lg.

3 ft.

Lg.

6 ft.

Lg.

1/8"

Wall

Thick.

(-0.008" to 0.008" Tolerance)

5/8

"
-0.002" to 0.002"

3/8

"
0000000

3/4

"
-0.0025" to 0.0025"

1/2

"
0000000

7/8

"
-0.0025" to 0.0025"

5/8

"
0000000
1"
-0.003" to 0.003"

3/4

"
0000000
1

1/4

"
-0.003" to 0.003"
1"
0000000
1

3/8

"
-0.003" to 0.003"
1

1/8

"
0000000
1

1/2

"
-0.003" to 0.003"
1

1/4

"
0000000
2"
-0.003" to 0.003"
1

3/4

"
0000000
2

1/2

"
-0.004" to 0.004"
2

1/4

"
0000000