Heat Exchangers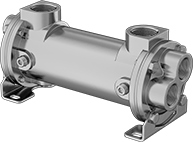 With Threaded
Shell-Side
Connection
Also known as shell and tube heat exchangers, these transfer heat using liquid or steam that flows through the shell to heat or cool liquid in the tubes. They're commonly used in refrigeration and engine cooling systems. Btu/hr. cooling capacity is based on cooling 180° F process water with 85° F water and a 10 psi pressure difference.
Heat exchangers with baffled tubes direct liquid to make four passes through the tubes for more efficient heat transfer than other heat exchangers.
For technical drawings and 3-D models, click on a part number.
NPT Female Threaded Shell-Side and Tube-Side Connections
Heating/Cooling




Cap.,




Btu/hr.

Surface


Area,




sq.

ft.

No.


of
Passes

Min.




Temp.,




°F

Max.




Temp.,




°F

Pipe
Size
Flow


Cap.,


gpm

Max.




Pressure,


psi
Pipe
Size

Flow


Cap.,


gpm

Max.




Pressure,


psi

Lg.

Head


Dia.

Each

Brass Shell and Baffled Copper Tube

130,000
2.4
4
-20°
300°
1
24
300

3/4

12
150
10

7/8

"
4

3/16

"
00000000
0000000
195,000
4.3
4
-20°
300°
1
24
300

3/4

12
150
16

7/8

"
4

3/16

"
00000000
000000
280,000
7.4
4
-20°
300°
1
24
300

3/4

12
150
26

7/8

"
4

3/16

"
00000000
00000000
350,000
9.1
4
-20°
300°
1

1/2

60
300
1

30
150
18

1/8

"
6

1/2

"
00000000
00000000
560,000
15.7
4
-20°
300°
1

1/2

60
300
1

30
150
28

1/8

"
6

1/2

"
00000000
00000000
890,000
23
4
-20°
300°
2
73
300
1

1/2

57
150
29"
7

1/2

"
00000000
00000000
1,115,000
34
4
-20°
300°
2
73
300
1

1/2

57
150
41"
7

1/2

"
00000000
00000000
1,585,000
41
4
-20°
300°
3
140
300
2

104
150
30

3/8

"
9

3/4

"
00000000
00000000
2,000,000
62
4
-20°
300°
3
140
300
2

105
150
42

3/8

"
9

3/4

"
00000000
00000000