About
Copper,

Brass,

and Bronze
Easy-to-Machine

Architectural 385 Brass

U-Channels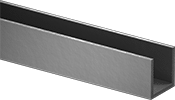 Yield

Strength:

16,

000 psi

Hardness:

Rockwell B40

(Soft)

Temper: M30

Heat

Treatable:

No
Specifications

Met:

ASTM B455
Often called architectural bronze, 385 brass is easy to machine and has excellent formability when heated. It is typically used for handrails, ornamental trim, and hardware, such as hinges and lock bodies.
For technical drawings and 3-D models, click on a part number.

Certificates with a traceable lot number are available for these products. Download certificates from ORDER HISTORY after your order ships.
Ht.

Ht.

Tolerance

Wd.

Wd.

Tolerance

Ht.

Wd.

4 ft.

Lg.

6 ft.

Lg.

0.093"

Wall

Thick.

(-0.0009"

to

0.0009"

Tolerance)

1/2

"
-0.005" to 0.005"

1/2

"
-0.005" to 0.005"
0.407"
0.314"
0000000

3/4

"
-0.008" to 0.008"

1/2

"
-0.005" to 0.005"
0.657"
0.314"
0000000

1/8"

Wall

Thick.

(-0.0013"

to

0.0013"

Tolerance)

3/4

"
-0.008" to 0.008"

3/4

"
-0.008" to 0.008"

5/8

"

1/2

"
0000000
1"
-0.001" to 0.001"
1"
-0.001" to 0.001"

7/8

"

3/4

"
0000000
1

1/4

"
-0.001" to 0.001"
1

1/4

"
-0.001" to 0.001"
1

1/8

"
1"
0000000